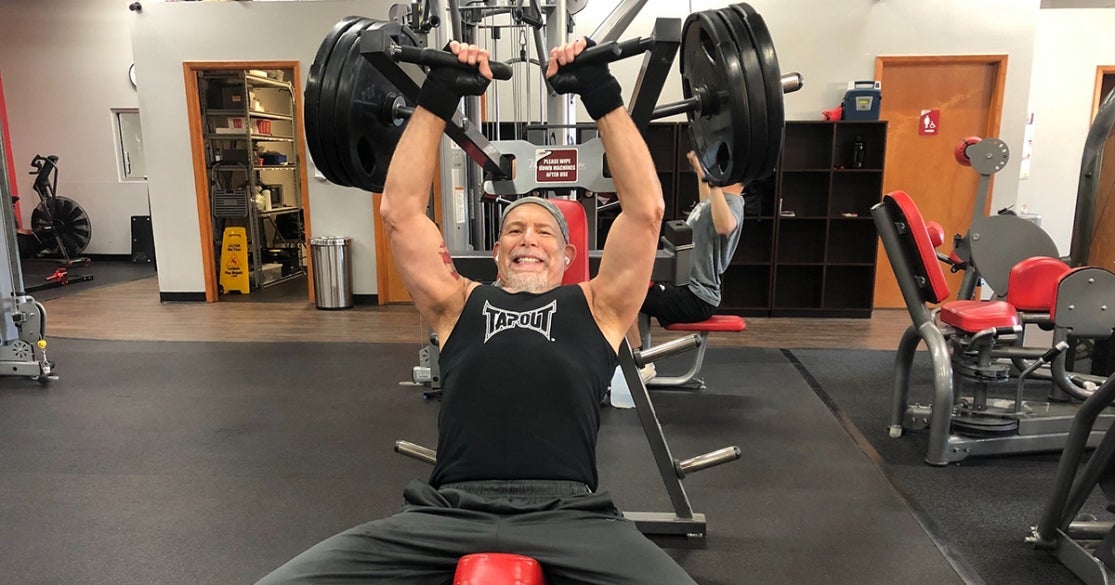 For Dr. Bill Goodman, staying in shape has been a lifestyle choice for most of his 61 years. A New York Section Champion in the Triple Jump during high school, Goodman went on to earn a varsity letter as a freshman on the University of New Mexico track team.
He continued working out into his adult years, often lifting weights at home or in the gym. He only stopped for the occasional injury, like the one that required hernia surgery.
A hernia is not a specific organ in our body; it is a condition that occurs when an internal organ protrudes through an opening in a weak section of muscle or tissue. Some hernias don't require surgery, but in Goodman's case, decades of weight training caused his hernia to be large enough to require surgery.
"I have always had an 'outie' belly button," said Goodman. "I had an umbilical hernia in which a portion of my intestines were sticking out at my belly button. What started as small opening became larger than a quarter but smaller than a half dollar, so it had to be fixed," he said.
Robotic surgery
Mario Leyba, M.D., one of two of Lovelace Medical Group's Master Surgeons in Hernia Surgery, performed Goodman's surgery at Lovelace Women's Hospital with the facility's Da Vinci Xi Surgical Solution, a robotic system that uses computer targeting for minimizing the surgical cuts on a patient's body.
"Dr. Leyba made three small incisions in my stomach to get the robotic tools inside me," said Goodman. "The first thing they did was blow air into the stomach to separate the skin and fat layer from the underlying muscle. Then they inserted sterilized surgical mesh through a tube to cover the hole in the stomach muscle. Finally, they used the robotic system to suture the mesh in place before closing the tiny holes across my belly."
Goodman said he was initially concerned about what the robotic system could do. "But having worked in the aerospace industry and seeing advanced manufacturing techniques using robotics, I didn't have any worries going into the surgery."
The surgery was done on an outpatient basis and did not require an overnight stay.
"For me, it was just very turnkey," said Goodman. "Their process worked. I went in, had the surgery and stayed in the recovery room a little while for observation. Soon afterwards they put me in a wheelchair, rolled me out to the car with a prescription for some pain meds and sent me on my way. It was very turnkey."
After surgery, Goodman was instructed not to lift anything weighing more than five pounds for six weeks or do any heaving lifting for six months. "I wore the wrap they gave me to wear while I started to become more active. I was very careful about my movements. I would say I had a very rapid rehab, as I was back to 100% strength in all areas in less than a year."
Goodman has a few words of advice for patients considering hernia surgery and getting back into shape: "I would tell someone that you don't always get the things you'd like to have. You only get the things that you must have, so focus on your health and make it a must-have."
Lovelace Medical Group is proud to have two doctors on our staff who earned the designation Master Surgeon in Robotic and Hernia Surgery: Michael Blea, M.D. and Mario Leyba, M.D.. Read more about this accreditation on our website.
If you feel you are suffering from a hernia and want more information about our minimally invasive robotic hernia repair, visit our website or call (505) 727-2727. A physician referral is required.