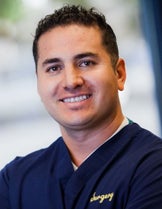 Specialties
General Surgery
Robotic Surgery
Office Location
Lovelace Medical Group | Osuna & Jefferson
6701 Jefferson NE
Albuquerque, NM 87109

Get Directions
Office Location
Lovelace Women's Hospital
4701 Montgomery Blvd NE
Albuquerque, NM 87109

Get Directions
About Mario Leyba, M.D.
Mario J. Leyba, M.D., is a board-certified general surgeon and Chief of Surgery at Lovelace Women's Hospital. He graduated magna cum laude from New Mexico Highlands University with a degree in biology and chemistry. He earned his medical degree from the University of New Mexico's School of Medicine. Dr. Leyba completed his surgical residency at Good Samaritan Hospital Level 1 Trauma Center in Phoenix.
Prior to joining Lovelace Medical Group, Dr. Leyba was chief of surgery at Alto Vista Regional Hospital in Las Vegas, N.M. While at Alto Vista, he was also the lead wound care physician.
Dr. Leyba is affiliated with the American Medical Association and the American College of Surgeons. He enjoys serving his community in a variety of volunteer positions, including as a mentor to both high school and University of New Mexico students. He is fluent in both English and Spanish.
Dr. Leyba does a wide variety of surgical procedures, including da Vinci robotic and minimally invasive surgery, thyroid and parathyroid surgery, gallbladder, inguinal hernia repair via open and laparoscopic repair and other general surgical procedures. Dr. Leyba is the Robotic Surgery Director and was awarded the Robotic Surgery Center of Excellence: Master Surgeon in Hernia and Robotic Surgery. He does complex robotic surgical procedures and has done many of the first robotic procedures in New Mexico such as the first single site gallbladder surgery, colostomy reversal, distal gastrectomy, and splenectomy. He specializes in other Robotic surgeries such as colon surgery, complex hernia repair including endoscopic components separation. In addition to being a case observation site for Robotic Surgery, he also serves as a proctor, teaching to other surgeons. Click here to learn more about da Vinci surgery.
He also does office based procedures including skin and muscle biopsy, lipoma and cyst removal, and hemorrhoid banding. He will also be offering cosmetic procedure such as Botox, fillers, and PRP in the office in the near future.
Dr. Leyba's office is located at 6701 Jefferson NE. His phone number is 505.727.7050 and fax is 505.727.9711.
To hear more about Dr. Leyba and robotic surgery, click here to view video.
A message from Dr. Mario Leyba
Robotic Hernia Surgery
Blogs:
Albuquerque ranks among best places in the U.S. for robotic hernia surgery
Technology speeds recovery from gallbladder removal surgery