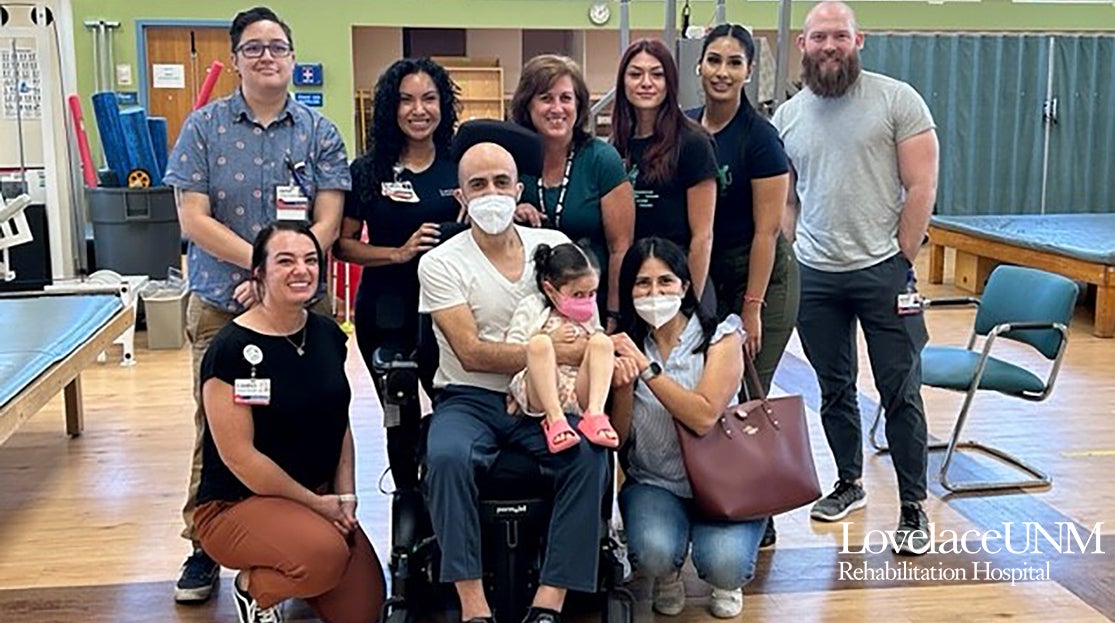 Thoughtful 'thank you' letters for team members remind us of the important work we do every day and that each interaction matters.
We recently received a letter from Lily Colmenero, whose husband Cesar is battling the effects of Multiple Sclerosis (MS) with bravery, determination and a willingness to work hard against this debilitating disease.
MS is an unpredictable disease of the central nervous system that disrupts the flow of information within the brain and between the brain and body.
Cesar Colmenero, 38, was first diagnosed in 2012 with Primary Progressive Multiple Sclerosis (PPMS), which occurs in 15% of MS patients. He and Lily have been married for six years and are the proud parents of two children. Cesar has had ongoing outpatient physical therapy sessions at Lovelace UNM Rehabilitation Hospital.
Dear Lovelace UNM Rehabilitation Hospital,
When I think about the wonderful care my husband receives at your facility, it always brings me tears of happiness.
Ever since Cesar was diagnosed with MS, his arms and legs have progressively become weaker, which severely limited his mobility and led to many falls and injuries.
But with the workouts and exercises under the watchful eyes of your exceptional team, he is regaining strength and energy that he hasn't felt in years. It means so much to me to see him feel stronger and regain confidence in himself. In addition, his falls and injuries have greatly decreased, so my fears for his safety have decreased as well, giving me a peace that I could never repay.
My husband has been blessed with a great care team, so I would like to recognize them individually and describe how they have been essential to my husband's success.
Occupational Therapy: Lisa
Occupational therapists address daily living skills, positioning and strengthening one's arms and legs, trunk stability and completing a wheelchair evaluation in order to obtain a power chair for independent mobility.
Lisa was the first therapist my husband worked with at your facility. During her sessions, his overall balance improved and he regained some range of motion. More importantly, it was Lisa's compassion that led to his new, positive attitude and hope for a better future with MS. She always made it clear that Cesar's safety and quality of life at home were just as important to her as it was to us. She showed me how to safely transfer him from the sofa to the chair or from the chair to the car. By doing so, she opened up our eyes to new possibilities of living with MS. She also helped us acquire his power chair, for which we will always be grateful.
Physical Therapy: Lindsay and Monica
Physical therapists help patients with moving, balancing, plus sitting and standing to and from surfaces safely.
After completing his occupational therapy sessions, Cesar worked with Lindsay and Monica for physical therapy.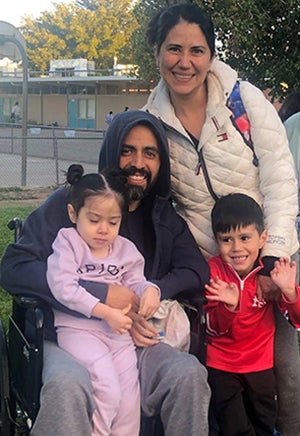 Lindsay conducted the initial evaluation and we found her to be very knowledgeable and energetic. We felt very comfortable telling her our concerns, hopes and goals. She always explained every exercise, why it was important and why it was vital to achieve the goals we set. She asked the right questions about our home life and my husband's work life, which helped motivate him during the sessions.
She always gave him real-time feedback and cheered him on throughout the therapy sessions. Whenever Cesar heard Lindsay exclaim, "Whoo hoo!" he knew she was pleased with his hard work.
Assisting Lindsay was Monica, a tough and technically precise therapist who is also one of the sweetest people. Her knowledge and precision with the exercises speak volumes to her years of experience. She has an incredible way of explaining body mechanics and why the body does what it does. This information is very important to Cesar as he completely relearns how to make his body move.
Throughout each exercise, she asks Cesar which muscles are engaged and he feels the exercise's effects. She pushes him and keeps him accountable to his goals. But as tough as Monica can be, she is also very compassionate. MS can be such an emotionally draining illness, but Cesar always goes home with an uplifted spirit after a therapy session with her. Monica has helped him create a positive attitude about everything, which has helped him in many more ways than she can imagine.
Tech Team: Jackie, Destiny, Adrian and Jared
Technicians assist the therapists with all the above activities to ensure a safe environment.
This tech team is the cherry on top of the amazing therapy team. All the techs have been so kind, professional and well-trained. I always know that my husband is in great hands no matter who is assigned to him. We have enjoyed working with each of them and building a rapport with their different personalities. We have been blessed and so grateful for their care.
Front Desk: Raquel, Marlene, Janaha
Front desk personnel schedule appointments, greet patients and families and manage a myriad of office operations.
Last but certainly not least, I want to acknowledge the ladies we meet as we start each day at your facility. These ladies have always welcomed us at the front desk. There have been several occasions when we walked in the front door and have been greeted with "Good morning! I have checked you in, Cesar!"
It's so nice to feel welcomed and wanted. This kind of customer service makes a huge difference in the overall experience we have at the facility.
Moving forward
The effort and energy your team brings to work every day has changed my husband's life. He looks forward to every day that involves therapy at your facility, a place where he feels seen and valued.
It is my deepest desire that all your patients experience this same level of considerate care, whether they are going through temporary therapy or need long-term care like my husband.
Our entire family is grateful for your care and support. Thank you from the bottom of our hearts. – The Colmenero Family
Note from Lisa Y. Allison, occupational therapist
Cesar Colmenero has shown marked improvement in stamina, dexterity and strength, since starting OT and PT at Lovelace UNM Rehabilitation Hospital. We hope that with additional therapy sessions, he will continue to show improvements that will aid in managing his daily activities at home, at work and with his family. We were instrumental in getting Cesar his power wheelchair so he could live his life more fully. It is admirable how hard Cesar has worked and how much support his family has given him.
If you would like to learn more about the rehabilitation services at Lovelace UNM Rehabilitation Hospital, visit our website.