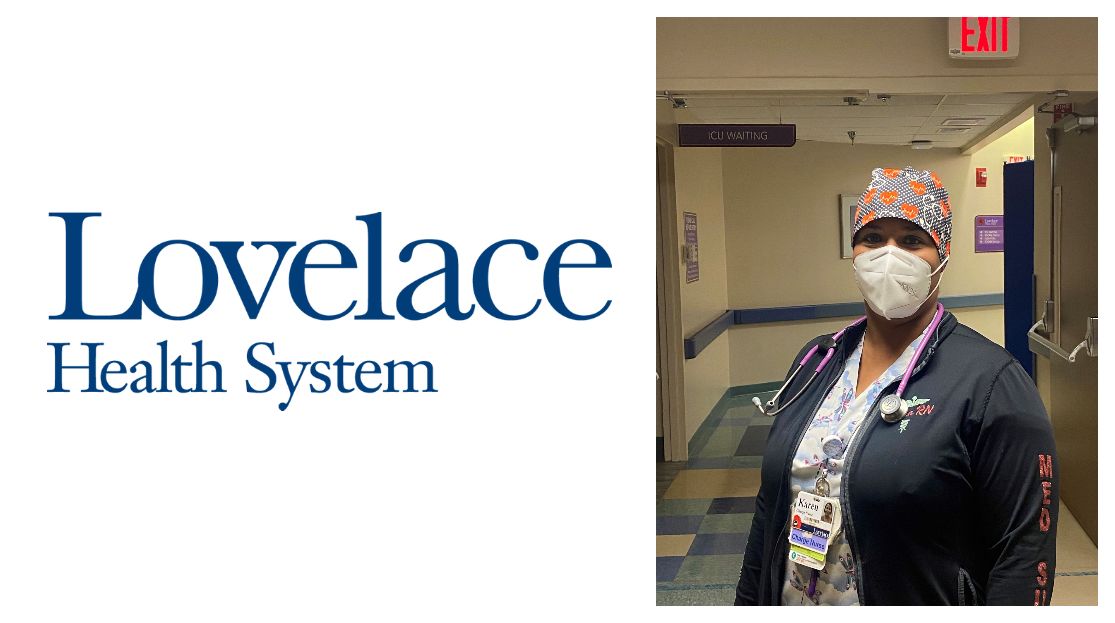 Karen A.'s desire to be in healthcare blossomed at a young age. Her career path was solidified when her mother became extremely ill. Despite the unfortunate circumstances, one positive shined through the negative situation and gave Karen a little bit of peace – the nurses taking care of her mother during her extended stays at the hospital.
"I watched my mother go in and out of the hospital my whole life until unfortunately, she passed away," Karen shared. "The compassionate care the nurses gave at least made her journey better. And it made me want to be able to help people the same way."
Not every shift is easy. There will always be trying situations and unfortunate outcomes, but Karen says she derives joy from interacting with patients, making that human connection and making patients and their families feel like more than just another assignment.
"My favorite part of my job is walking into the patient's rooms and having a conversation with them," she said. "I always want to try to make patients feel more like they're a person as opposed to a room number, or name. I like sitting down and talking about their experiences, talking about their families. The greatest part of the job is when people feel like they're their actual people, and like they can maybe not forget, but maybe for just a moment, they're able to take their mind off of why they're here."
Karen has more than a decade of experience working in healthcare and has been part of many different teams under many different management styles and work environments.
"I've worked in a few different hospitals throughout my career and the thing that I love the most about Lovelace Women's Hospital is that we're truly a family here," she explained. "I enjoy going into my job because we're all team players and we work together and it makes for a better shift. And it makes for superior patient care when we can all work together as a team, something I didn't have in previous hospitals. We're not just employees-employers here, we're more like family."
Especially during the onset of the recent coronavirus pandemic, Karen truly felt the family dynamic of her unit in full force. In March 2020, Karen remembers the panic everyone was faced with and the support of her coworkers and leadership that got her through it.
"When COVID first started, everyone was afraid, myself included, and we were worried that we would bring it home to our families and our children or our elderly family members," she remembers. "However, I believe that Lovelace is protecting us quite a bit. I feel like we have an adequate supply of PPE for our staff and we're protected immensely."
On top of the practical preparedness of Lovelace in such an uncertain time, Karen says leadership really stepped up, noting, it's not like that everywhere.
"We have excellent leadership," she remarked. "And if I were to speak with someone interested in getting into nursing, or making a location change, I would tell them Lovelace is one of the best places to be right now. We have great ratios. We have the support and leadership of our management and our C team, which makes quite a difference."
It's connections like these that reaffirm Karen's decision to pursue nursing all those years ago. For individuals thinking about getting into healthcare, Karen says she has nothing but support for that decision.
"It's a rewarding career," she said. "The fact that they can help other people and be compassionate and give that care that they would expect for any of their family members, and get paid for it is incredibly satisfying. I would support anyone who wants to go into nursing."
To learn more about open positions at Lovelace Health System, visit our career page: https://jobs.ardenthealth.com/new-mexico.