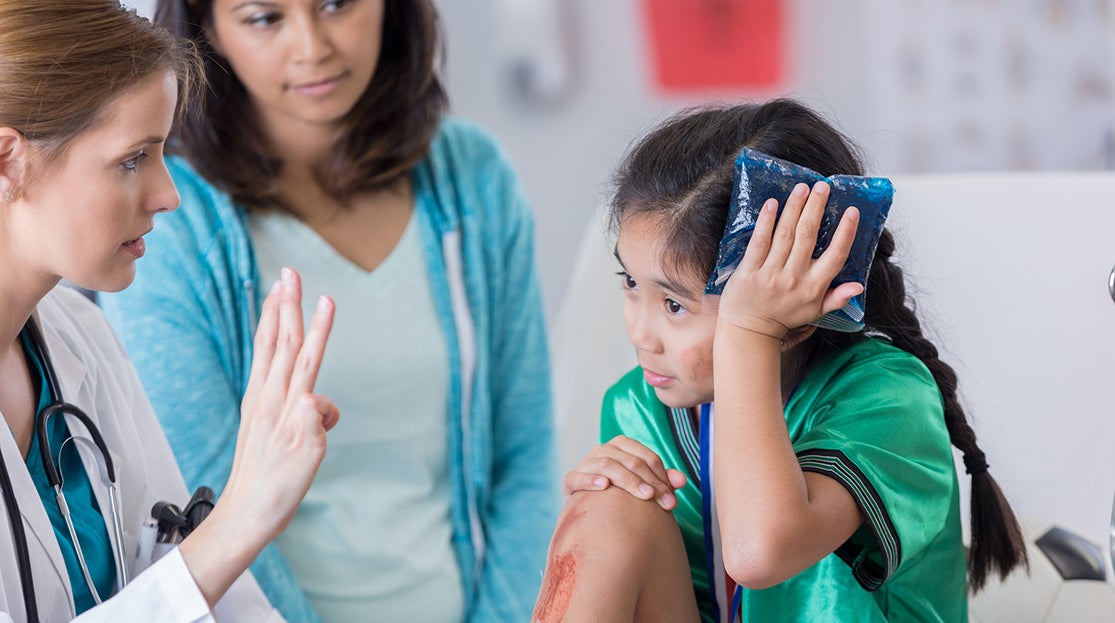 When you are ill or have suffered an injury, where do you go for emergency care? Well, it really depends on how severe your injury or illness is.
When something happens to us or a family member, we have to make the decision of whether care is needed immediately or if something can wait. We have to decide whether we need serious, immediate care in a hospital emergency room or whether our illness/injury is less severe and can get appropriate treatment at a nearby urgent care.
Basic Treatments at Home
In the case of low-severity illnesses like the flu, minor scrapes and bruises, a low-grade fever (under 100 degrees) or mild cough, it's usually best to follow the basics: rest, drink plenty of fluids and take over-the-counter pain medications on an as-needed basis.
If your symptoms continue without any improvement, be sure to call/visit your primary care provider. If you don't have a primary care provider, visit our directory. Many primary care providers offer e-visits. These services can make it convenient to receive care, so learn how to connect with your doctor for when you need them.
You can schedule in-person and video visits, message your provider, view tests results and more with a Lovelace MyChart account. Sign up or log in on the Lovelace MyChart web page.
Urgent Care
When it is after hours and you need immediate care, an urgent care is often a good choice. Many of the centers have shorter wait times than an emergency room and cost less than a hospital visit. The Lovelace Medical Group Urgent Care also has advanced diagnostic imaging technology like x-ray machines to assess your injury onsite. The healthcare providers at Urgent Care can prescribe medications and refer you to a higher level of care if needed.
An urgent care specialist can evaluate and treat:
Fevers and colds
Vomiting and nausea
Dehydration
Diarrhea
Strains or sprains
Minor cuts or burns
Mild asthma attacks
Pain with urination
If a healthcare provider thinks you need a higher level of care, they will refer you to a hospital emergency room. For more information, visit our Lovelace Urgent Care web page.
Hospital Emergency Room
If your injury or illness affects your entire body, or if there are sudden and severe changes in your health, a hospital emergency room (ER) is recommended. This includes when something in your body "doesn't work," like you can't move your leg or if you have trouble breathing. A hospital will have the highest level of care available to treat your injury or care for your illness. Once screened and cared for in the ER, if your care warrants it, you could be admitted to for additional care and observation.
Head to the ER or call 911 to have the following symptoms evaluated and treated:
Shortness of breath
Heart attack sypmtoms such as chest pain, nausea, shortness of breath, and sweating
Chest pain, left arm pain or left jaw pain
Serious burns and cuts (cuts that don't stop bleeding or wounds that don't close)
Seizures
Severe allergic reaction (swelling lips, difficulty swallowing or breathing)
Stroke symptoms, including slurred speech or sudden numbness/weakness in any area of your body, facial droop, loss of balance or vision
Change in mental status (such as confusion)
Loss of consciousness (if you pass out)
Multiple injuries or a possible broken bone in areas like the ribs, skull, face or pelvis
If you're pregnant and have vaginal bleeding or pelvic/abdominal pain
For more information, visit our emergency services web page.