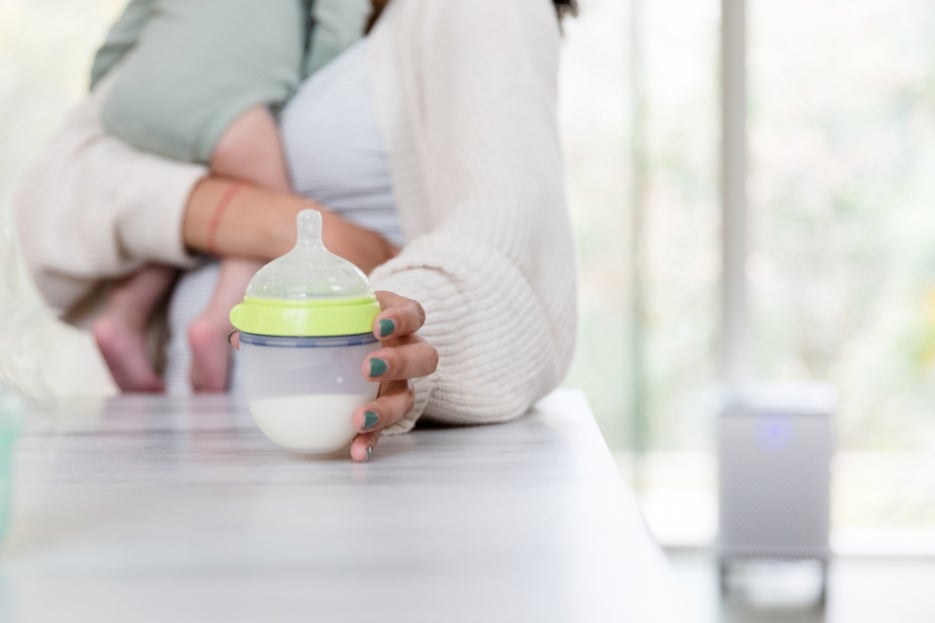 In collaboration with the Human Milk Repository of New Mexico (HMRNM), Lovelace Women's Hospital and Lovelace Labor of Love have teamed up to create a donation station for human breast milk. The site is located at 101 Hospital Loop in Albuquerque, New Mexico, just behind Lovelace Women's Hospital. The Milk Depot @ Lovelace Women's Hospital will accept breastmilk donations for the HMRNM from their approved donors. Donations are accepted between noon and 3 p.m. Monday – Friday and we offer curbside service. No need to leave your car!
The best nutrition for newborns and infants is from human breastmilk feeding, whenever possible, for at least the first year. Human milk banks offer a solution for mothers who are not able to supply their own breast milk. The largest group using donor milk is premature babies. Infants with gastrointestinal issues (tummy trouble) or metabolic disorders who need certain substances found only in breast milk, may consume this milk.
A human milk bank, or breastmilk bank, is a service that collects, screens, processes and dispenses human milk donated by nursing mothers not related to the receiving infant. Improved screening methods have made donated human milk a viable alternative to formula when the infant's own mother is unable to provider her own breastmilk. The milk is pasteurized and can be stored for several months.
Healthy moms with extra breastmilk may apply to donate through the HMRNM. There are four steps to becoming a donor:
1. Complete a screening phone interview.
2. Complete forms (application, consent from physician)
3. Commit to donating 100 ounces of milk, over time
4. Take a blood test.
a. HMRNM covers all associated costs for the blood test.
We thank you in advance for your hard work and generous hearts as you consider giving the gift of breastmilk to babies and mothers in need. For more information:
· Call Lovelace Labor of Love at 505.727.7677
· Connect with the HMRNM at 505.508.5291 or by email info@mothersmilkbanknm.org to apply.
· For general information head on over to https://mothersmilkbanknm.org.
· To learn more about human milk and milk banking, read our blogs: https://lovelace.com/news/blog/human-milk-banking and https://lovelace.com/news/blog/foundation-healthy-newborn-%E2%80%93-mother%E2%80%99s-milk.
Submitted by:
Catherine Roth CCHW, Lovelace Labor of Love
Natalie Swart, IBCLC, Human Milk Repository of New Mexico
Kym Halliday Clear, RN, Lovelace Labor of Love