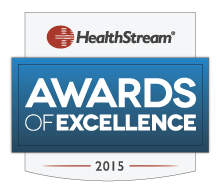 ALBUQUERQUE – October 20, 2015 – Lovelace Rehabilitation Hospital has announced that they were honored with the "Most Improved" award for a small rehabilitation hospital by the HealthStream Awards of Excellence in the Excellence Through Insight category. Lovelace Rehabilitation Hospital was recognized in the overall employee satisfaction and engagement section.
These awards recognize hospitals that excel in their ability to gain insight about their patients, employees, physicians and community through research and use that information to build excellence within their organization. Award winners are recognized based on data collected from the 2014 calendar year.
"We are pleased that our improvements in quality are being noticed," said Lovelace Rehabilitation Hospital CEO Derrick Jones. "This has truly been a team effort on the part of our staff, and their efforts have paid off."
The Awards of Excellence acknowledge exceptional performance achieved by health care organizations with the use of HealthStream solutions. HealthStream's awards spotlight innovative programs and superior leadership that support organizational excellence, workforce development, patient satisfaction, employee engagement, positive community perception and more. They also recognize health care organizations' dedication to methods and processes that lead to quality improvements and, in turn, improved patient outcomes.
Lovelace Rehabilitation Hospital was the only hospital in Albuquerque to be recognized with this award for 2015.
Lovelace Rehabilitation Hospital and all five therapy sites also received the Excellence in Outcomes Award for the first quarter of 2015 from Focus On Therapeutic Outcomes, Inc. (FOTO).
To view the full list of HealthStream Awards of Excellence 2015 winners, click here.