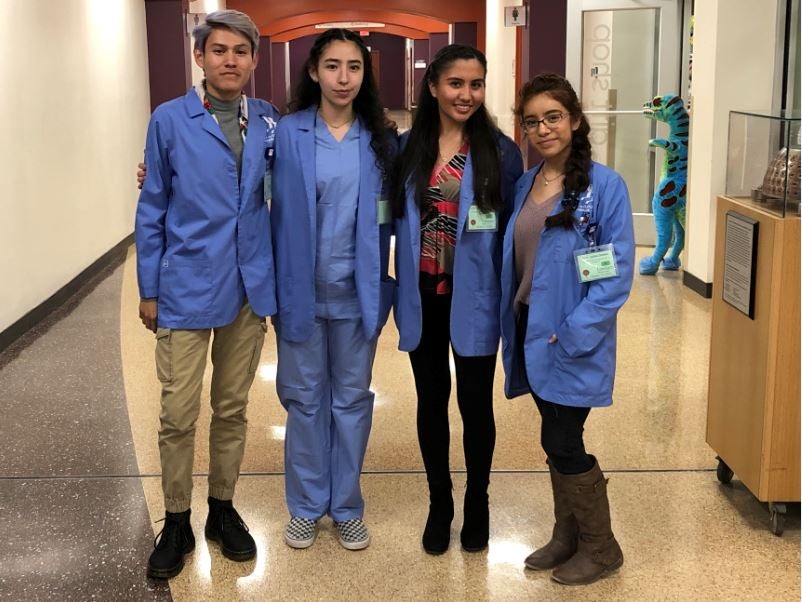 If you enter one of our Lovelace hospitals, you may see some new FACES.
Local high school students are participating in the FACES for the Future program throughout Lovelace hospitals. FACES for the Future works to support underserved, minority students interested in careers in health care, mental and behavioral health, public health and global health.
The mission of the program is to create and expand opportunity for students who are interested in health care, but may not know how to get their foot in the door. Long term, FACES aims to expand the health care workforce in New Mexico.
"FACES provides students with academic support, wellness support, and advocacy training and opportunities in addition to job shadowing and mentorship," said FACES Program Coordinator, Mia Mendoza. "The ultimate goal of the program is to empower youth and train our future skilled, multi-lingual, multi-cultural health workers in New Mexico, where we know there is such shortage in all areas of health care."
Lovelace has participated in the program since FACES was introduced to New Mexico in 2017.
"We got involved with Lovelace as we were able to initially get students placed with Lovelace UNM Rehabilitation Hospital in the first year of the program. With success there, Lovelace Medical Center and Heart Hospital of New Mexico have since jumped on board."
Reverend Christopher Eyrich, Director of Chaplaincy and Volunteer Services for Lovelace Medical Center Heart Hospital of New Mexico at Lovelace Medical Center and Lovelace UNM Rehabilitation Hospital, is thrilled to see Lovelace participating in the program.
"The FACES program has a long and successful history of encouraging high school youth to consider the health care industry as a career choice," said Eyrich. "With the involvement of Lovelace, we are giving Albuquerque youth the opportunity for firsthand knowledge of the depth and breadth of career paths within health care, and more specifically locally in Albuquerque."
Seventeen students attending South Valley Academy, Health Leadership High School and the Native American Community Academy are currently shadowing medical professionals across Lovelace Health System.
Dominique Jaspers, Taejonon Denetclaw and Annarae Serrano are seniors at Native American Community Academy and currently enrolled in FACES at Lovelace.
Jaspers is currently interning at Heart Hospital of New Mexico at Lovelace Medical Center, shadowing Lovelace staff within sonography and nuclear medicine and CT.
"I've always been interested in health care, mainly because my grandma and aunt both went into health care. I wanted to find out whether I wanted to take a medical route or going into community based health care. I was thrilled when we found out about FACES and beyond happy when I got in. So far it has been a wonderful experience." Jaspers sees herself wanting to serve Native American, LGBTQ and other underrepresented communities in health care.
Denetclaw found out about FACES from his academic guidance counselor. "I was interested in the program because it would be shadowing health care professionals, and for me it allowed me to identify the area I would be interested in." Denetclaw is planning on studying public health in college, specifically in community outreach.
Serrano had always wanted to go into the medical field but didn't know where to start, until she applied to FACES. "I've always wanted to be in the medical field, and this program has helped me decide that I either want to become a pediatrician, surgeon or work in community health care," said Serrano.
Serrano's favorite part about the program is having the opportunity to shadow various medical professionals, including pediatricians and surgeons. Recently, Serrano watched a Lovelace surgeon perform a laparoscopic hernia repair procedure.
"I really want to express gratitude for Lovelace being so open to this program and the students we work with," said Mendoza. "It takes lot of faith in a program and a passion for helping youth and community to take on a program the way Lovelace has with FACES," said Mendoza."I think having the support of Lovelace is going to help propel this program forward and make it a long-lasting part of our community. I wouldn't be surprised if we start seeing FACES alumni become Lovelace employees someday soon!"