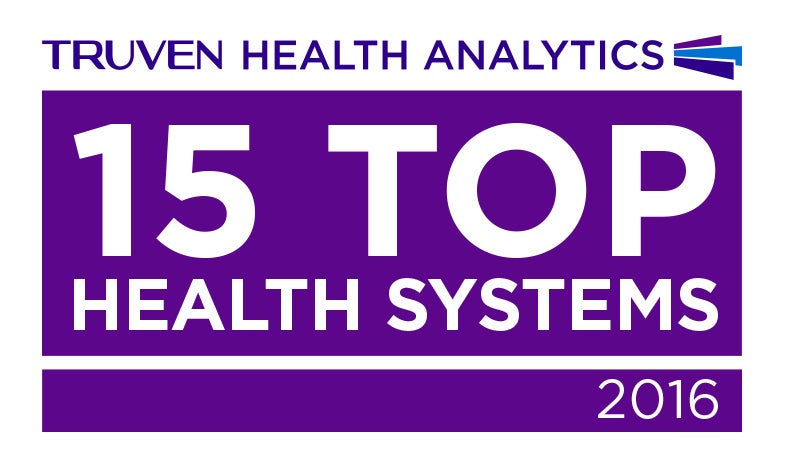 FOR IMMEDIATE RELEASE
ALBUQUERQUE, NM -April 27, 2016 -Lovelace Health System was this week named one of the nation's 15 Top Health Systems by Truven Health AnalyticsTM. Truven Health is a leading provider of healthcare data and analytics solutions and services that was recently acquired by IBM.
The 2016 15 Top Health Systems study evaluated 338 health systems and 2,912 member hospitals to identify the 15 U.S. health systems with the highest overall achievement on a balanced scorecard. The scorecard is based on the Truven Health 100 Top Hospitals® national balanced scorecard methodologies and focuses on five performance domains: inpatient outcomes, process of care, extended outcomes, efficiency and patient experience. The study has been conducted annually for the past eight years. This is the first time Lovelace Health System has been recognized for this achievement. Lovelace Health System is also the only system in New Mexico currently on the list.
"Lovelace Health System has consistently provided quality care to our patients in New Mexico, and we are pleased when national organizations such as Truven take notice," said Ron Stern, CEO of Lovelace Health System. "Quality is a moving target, because no institution can be perfect, but there is a constant drive for improvement among our staff members, from every level of the organization."
Lovelace Health System has been a large provider of health services in New Mexico for decades, employing nearly 4,000 people and spending over $370 million in capital investments in the communities of Albuquerque and Roswell since 2003. Currently the system is comprised of six hospitals as well as a physician group which has expanded to nearly 100 providers in the past several years. Lovelace provides services in various fields, including breast care, bariatrics, cardiology, cardiothoracic surgery, emergency care, family practice, gastroenterology, general surgery, internal medicine, midwifery, OB-GYN, neurology, podiatry, pediatrics and pulmonology, and partners with other providers in the community to ensure all patients receive the care they need. At hospitals across the system, the wait time at Emergency Departments averages 30 minutes or less for a patient to see a provider. Lovelace has improved customer service quality with initiatives such as Care Concierge, a service which allows new or existing patients to call a single number to schedule an appointment with providers and specialists.

Truven Health Analytics researchers analyzed public information — 2013 and 2014 Medicare Provider Analysis and Review (MEDPAR) data, Centers for Medicare & Medicaid Services (CMS) Hospital Compare datasets and 2014 Medicare cost reports. The winning health systems were announced in the April 25, 2016, edition of Modern Healthcare magazine.
"These 15 top-performing health systems prove that quality and efficiency can improve across entire systems, regardless of their size," said Jean Chenoweth, senior vice president for performance improvement and 100 Top Hospitals programs at Truven Health Analytics. "It is clear from our data that many hospital systems have been able to implement a consistent, coordinated approach to quality improvement in the areas that matter most to patients and that is scalable across member hospitals."
Additional winning health system performance metrics include:
Lower Cost per Episode: The 15 Top Health Systems winners spent 5 percent less per care episode than nonwinning peer systems.
Shorter Hospital Stays: The 15 Top Health Systems winners discharged patients from the hospital a half-day sooner than nonwinners.
Higher Patient Satisfaction Scores: The winning 15 Top Health Systems attained average Hospital Consumer Assessment of Healthcare Providers and Systems (HCAHPS) scores that were 7 percentage points higher than nonwinning peers.
More information on this study and other 100 Top Hospitals research is available at 100tophospitals.com.
Contact:
Katherine Cox, Lovelace Health System
Phone: 505.727.5503
Ariana Nikitas
Ariana.nikitas@truvenhealth.com
312.533.3437
Brian Erni
For Truven Health Analytics
J. Roderick, Inc. Public Relations
brian@jroderick.com
631.584.2200