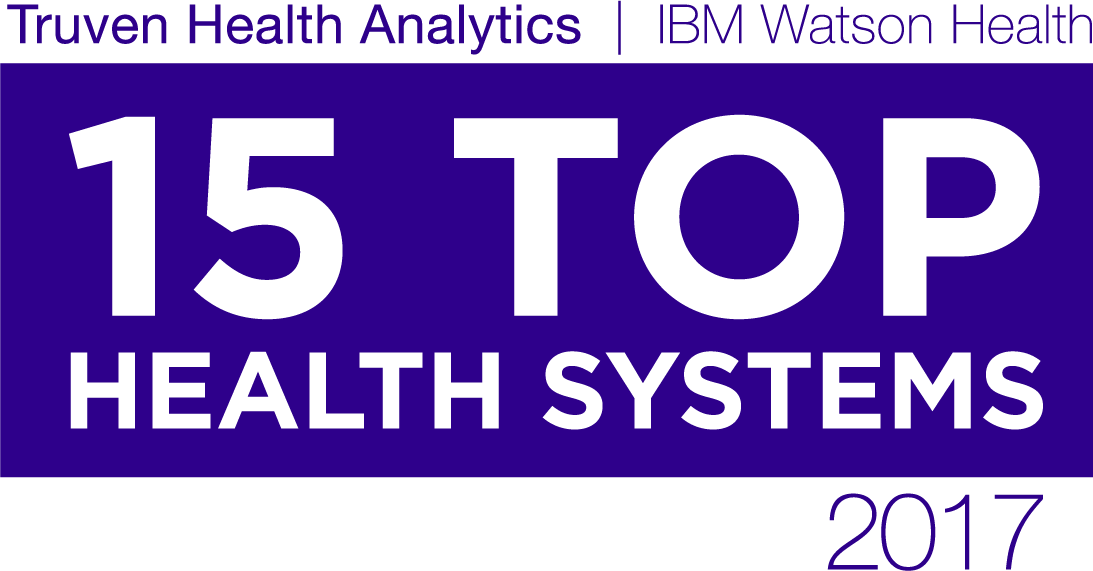 ALBUQUERQUE – April 25, 2017 – Lovelace Health System was this week named one of the nation's 15 Top U.S. health systems by Truven Health Analytics®, part of the IBM Watson HealthTM business. Truven Health Analytics is a leading provider of information and solutions to improve the cost and quality of healthcare.
This year's 15 Top Health Systems study evaluated 337 health systems and 2,924 member hospitals to identify the 15 U.S. health systems with the highest overall achievement on a balanced scorecard. The scorecard is based on the 100 Top Hospitals national balanced scorecard methodologies and focuses on five performance domains: inpatient outcomes, process of care, extended outcomes, efficiency and patient experience. This is the second time Lovelace Health System has been recognized for this achievement. Lovelace Health System is also the only system in New Mexico currently on the list.
"Lovelace Health System has continued to increase the level of quality of the care we provide over time," said Ron Stern, CEO of Lovelace Health System. "We are always pleased when a national organization with such stringent benchmarks as Truven Health Analytics recognizes our commitment to quality and constant improvement, and we are thrilled to see this has once again earned Lovelace Health System a place among the top systems in the U.S."
Lovelace Health System has been a large provider of health services in New Mexico for decades, employing nearly 4,000 people and spending over $370 million in capital investments in the communities of Albuquerque and Roswell since 2003. The system is comprised of six hospitals as well as a physician group which has expanded to over 100 providers in the past several years.
Lovelace provides services in various fields, including breast care, bariatrics, cardiology, cardiothoracic surgery, emergency care, family practice, gastroenterology, general surgery, internal medicine, midwifery, OB-GYN, neurology, podiatry, pediatrics and pulmonology, and partners with other providers in the community to ensure all patients receive the care they need. At hospitals across the system, the wait time at emergency departments averages 30 minutes or less for a patient to see a provider. Lovelace has improved customer service quality with initiatives such as Care Concierge, a service which allows new or existing patients to call a single number to schedule an appointment with providers and specialists.
Based on the results of this year's study, winning health systems were able to achieve the following compared to non-winning peer systems:
•
17.5 percent shorter wait times in the emergency department.
•
13.4 percent fewer in-hospital deaths.
•
8.5 percent fewer complications.
•
10.2 percent shorter length of hospital stays.
"The study recognizes these 15 health systems that have proven it is possible to drive down expense while improving the quality of care," said Jean Chenoweth, senior vice president for performance improvement and the 100 Top Hospitals® program at Truven Health Analytics. "More importantly, the leaders of these health systems are demonstrating the power of aligning best practices across multiple hospitals to achieve greater levels of efficiency while delivering higher overall standards of care."
The winning hospitals were announced in the April 24 edition of Modern Healthcare magazine.
Contact:
Katherine Cox, Lovelace Health System
Ariana Nikitas
312.533.3437
Brian Erni
For Truven Health Analytics
J. Roderick, Inc. Public Relations
631.584.2200
###
About Truven Health Analytics, part of the IBM Watson Health Business
Truven Health Analytics®, IBM Watson Health™, provides market-leading performance improvement solutions built on data integrity, advanced analytics and domain expertise. For more than 40 years, our insights and solutions have been providing hospitals and clinicians, employers and health plans, state and federal government agencies, life sciences companies and policymakers, the facts they need to make confident decisions that directly affect the health and well-being of people and organizations in the US and around the world. The company was acquired by IBM in 2016 to help form a new business, Watson Health. Watson Health aspires to improve lives and give hope by delivering innovation to address the world's most pressing health challenges through data and cognitive insights.
Truven Health Analytics owns some of the most trusted brands in healthcare, such as MarketScan®, 100 Top Hospitals®, Advantage Suite®, Micromedex®, Simpler ® and ActionOI ®. Truven Health has its principal offices in Ann Arbor, MI, Chicago, IL and Denver, CO.