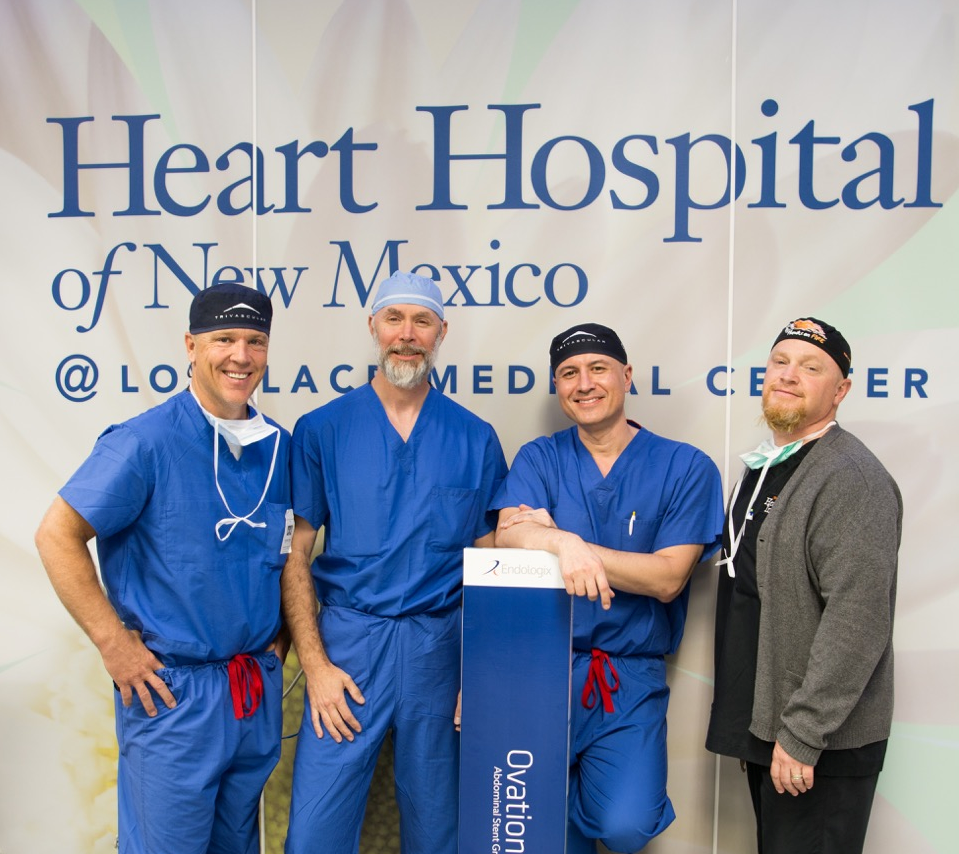 ALBUQUERQUE – April 3, 2017 – Steven Henao, M.D., chief vascular surgeon of New Mexico Heart Institute performed the first implant of the Ovation Alto™ Abdominal Stent Graft system in a patient on Thursday, March 30 at Heart Hospital of New Mexico at Lovelace Medical Center.
The Ovation Alto is manufactured by Endologix Corporation and is designed to treat abdominal aortic aneurysm (AAA).
This was the first implant of the device in the United States. The surgery was made possible thanks to the state-of-the-art equipment in the hybrid room at Heart Hospital of New Mexico at Lovelace Medical Center, which opened in 2016.
The Ovation Alto allows more patients afflicted by AAA than ever before to receive minimally invasive therapy for the condition. The aorta is the main blood vessel that supplies blood to the abdomen, pelvis and legs. AAA occurs when a weakness in the aorta allows an area of the aorta to become very large or balloon out. While AAA can develop slowly without symptoms, a ruptured AAA can lead very quickly to death.
"Patients who have surgery for AAA often have very good outcomes if the condition is caught and treated early enough," says Dr. Henao. "A minimally-invasive method of fixing the AAA is preferable over other surgeries, because patients need less time to recover and will spend less time in the hospital overall. The Ovation Alto will be a game-changer by allowing even more patients than before to safely receive a minimally invasive treatment for AAA."
The device is the latest generation of low profile polymer-based therapies for aneurysm treatment, offered exclusively by the Endologix Corporation.