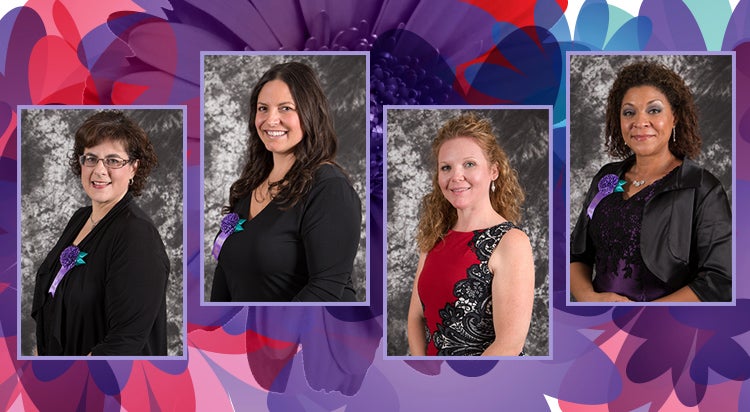 FOR IMMEDIATE RELEASE
ALBUQUERQUE – December 3, 2015 - Four Lovelace nurses, Windra M. Stringham, Meisha Hunt, Laura A. Hollingsworth and Joanna M. Rubi, were honored at the 2015 New Mexico Nursing Excellence Awards.
Stringham, who is a Critical Care Clinical Educator at Lovelace Medical Center, has been a nurse for nine years. She won the Excellence in Critical Care Nursing award. "Dedicated, hardworking, compassionate, caring, sensitive, professional and knowledgeable are only a few characteristics of this remarkable nurse. Windra Stringham is so much more!" explained Susan Mullin in nominating her for the award.
Stringham has been involved in developing a number of patient policies and protocols in the areas of spontaneous awakening, preventing infection and sepsis, preventing diabetic ketoacidosis, and controlling C-Diff to prevent infectious diarrhea.
She has been praised numerous times by patients and their families for delivering outstanding care and was chosen as a 2015 Daily Award Winner. A family member of a patient she cared for explained, "Windra deserves to be given the title Honored Hero. Her positive, uplifting spirit helped me deal with my mother's condition. You're very lucky to have such a 'gem'/'angel' on your staff/team."
In her new position as clinical educator, Stringham plans to continue initiating the ABCDE Bundle to improve outcomes for patients on ventilators as well as a Progressive Mobility program for patients in Intensive Care Units. She will also attend instructor training for ELNEC-End of Life Nursing Education Consortium.
Stringham holds an Associate of Nursing Degree from Central New Mexico Community College and is purchasing a Bachelor of Science degree in Nursing at Western Governor's University.
Hunt, a charge nurse at Lovelace Medical Center, received the Excellence in Emergency Nursing award. "Sometimes we get only one chance to make a difference and help people as nurses. This is why in the emergency nursing practice Meisha treats every moment she is privileged to work with our patients as if it could be the last opportunity to make that difference and help them in the best way possible," explained Teri Fry in nominating Hunt for the award.
Hunt has been an emergency room nurse for six years. She is recognized for regularly going above and beyond the call of duty to deliver patient care, recently helping safely transport a patient for emergency interventions to save that patient's life. She is knowledgeable in department policies and procedures and actively rounds to visit patients and staff to ensure positive outcomes.
In addition, Hunt was recognized for volunteering for Barrett Foundation Transitional Housing Program to ensure homeless mothers and their children received holiday gifts.
Hunt has earned certification in Geriatric Emergency Nurse Education and is also pursuing a Bachelor of Science degree in nursing at Our Lady of the Lakes University in Hialeah, Florida.
Hollingsworth, a staff nurse at Lovelace Women's Hospital, received the Nightingale Award, given to a new nurse for outstanding performance. "This nurse stands out because of her focus on evidence-based practice, compassion, and positivity. She is the epitome of a professional nurse," explained Lisa Cochran in nominating Hollingsworth for the award.
Hollingsworth decided to pursue a career in nursing after becoming a paralegal, living on Ramstein Air Force Base in Germany and volunteering with Wounded Warriors. During the year that she has been a nurse, she helped develop "Chat Time" a five-minute period to allow nurses to learn about patient information that cannot be garnered from a chart and to get to know their patients as people.
She is described as willing to do anything, volunteering to assist with new service lines and completing educational certifications for upcoming unit service lines. She has already served as a preceptor to provide guidance to new team members who have more experience than she does and is participating in an oncology steering committee to ensure the therapeutic relationship is not overlooked during program development.
Hollingsworth is pursuing a Bachelor of Science degree and completed a series of in-house courses at Lovelace to transition from a graduate to a professional nurse in half the time required, excelling in the assessments. In addition, she volunteers with a local elementary school and soccer organization to promote health and wellness.
Rubi, a staff nurse in the Neonatal Intensive Care Unit (NICU) at Lovelace Women's Hospital, was honored with the Touch a Life Award, the only award based on nominations from patients, families or individuals other than nurses.
In 1992, she found herself in the NICU regularly caring for the premature baby girl of a teenage mother who never came to visit and placed the baby in foster care. Despite the many healthcare challenges the baby faced, Rubi became attached, obtained licensure to be her foster parent, and took baby "Ana" home. "She did not see a broken child but instead a beautiful baby who deserved to be wanted, loved and cared for no matter how long she lived," explained Polly Neville in nominating Rubi for the award.
While the baby was not expected to live long, she thrived for six months in Rubi's care. Several months later, Rubi was asked to take another special needs child. What began with one little baby became Rubi's legacy of caring for more than 100 children, many having suffered from abuse and neglect as well as those who were medically fragile, medically neglected or who had special needs.
Over the years, Rubi has served as a great advocate for New Mexico's foster care system, and her extended family has now adopted nine children. When asked why she has taken on the care of these children, Rubi explained, "It is my absolute belief that there are two types of people in this world: the lucky and the unlucky. There is absolutely no rhyme nor reason for either. I've been very blessed having been born lucky. I live in a great country with unlimited opportunity. I have a wonderful family, and an absolutely amazing career. It is the duty of the lucky to serve the unlucky, and every once in while the unlucky get lucky."
Rubi continues to work in the NICU, continues to foster children and is currently exploring obtaining a larger transitional foster home for children coming into the custody of New Mexico's Children, Youth and Families Department.
The 2015 New Mexico Nursing Excellence Awards honored 20 nurses, two retired nurses, a nursing student and an individual. A total of 200 nominations were submitted this year's Nursing Excellence Awards. Other award honorees were:
Distinguished Nurse of the Year – Ann Wright, Chief Nursing Officer of the Central Delivery System, Presbyterian Healthcare Services, Albuquerque
Excellence in Advanced Practice – Ronald J. Haugen, Psychiatric Nurse Practitioner, Artesia General Hospital, Artesia
Excellence in Ambulatory Care – Melanie T. Garcia, Staff Nurse, University of New Mexico Hospital, Albuquerque
Excellence in Behavioral Health – Barbara Morrison, Staff Nurse, University of New Mexico Psychiatric Center, Albuquerque
Excellence in Case/Quality Management/Managed Care/Informatics – Sandee L. Razner, Cancer Care Coordinator, New Mexico VA Health Care System, Albuquerque
Excellence in Community Service – Tara M. Lucero, Staff Nurse, Memorial Medical Center Cancer Center, Las Cruces
Excellence in Education/Research/Academia – Mary C. Wright, Principal Lecturer II, University of New Mexico College of Nursing, Albuquerque
Excellence in Home Health/Hospice Nursing – Nick A. Vaughn, Staff Nurse, New Mexico VA Medical Center Hospice/Palliative Unit, Albuquerque
Excellence in Long-Term Care/Rehabilitation – Nora Parton, Assistant Nurse Manager, Presbyterian Kaseman Subacute and Rehabilitation Facility, Albuquerque
Excellence in Maternal-Child/Women's Health – Valerie Barboa, Nurse Supervisor, Pediatric Intensive Care Unit, University of New Mexico Hospital, Albuquerque
Excellence in Medical/Surgical – Melissa McLaughlin, Clinical Education Specialist, Presbyterian Healthcare Services Cancer Center, Albuquerque
Excellence in Nurse Executive Leadership – Rosa Matonti, Senior Director, Center for Digestive Health and Endoscopy Services, University of New Mexico Hospital, Albuquerque
Excellence in Nurse Management/Emerging Leadership – Andrea M. Petitto, Unit Director, University of New Mexico Hospital, Albuquerque
Outstanding Nursing Student – Ison C. Tenney, Student, Level 3, University of New Mexico College of Nursing, Albuquerque
Excellence in Perioperative Nursing – Jae-In Cho, Inpatient Nurse, University of New Mexico Hospital, Albuquerque
Excellence in Public Health/School/Community – Karolyn J. Schaefer, Nurse Manager, State of New Mexico Department of Health, Cuba
Excellence in Rural Practice – Gayla L. Jaquess, Nurse Manager, New Mexico Department of Health Public Health Division, Clovis
Leah L. Albers and Carol Eve Moye of Albuquerque were acknowledged as "Legends of Nursing." Joseph P. Sanchez, program operations director at the University of New Mexico College of Nursing, was named the 2015 "Friend of Nursing."
The New Mexico Center for Nursing Excellence hosted the awards gala with Lovelace Health System as the presenting sponsor. Other major sponsors were Presbyterian Healthcare Services and University of New Mexico Hospital.
Now in its 11th year, the New Mexico Nursing Excellence Awards recognize excellence in nursing practice and honor nurses for the contributions they make to their organizations, communities and the state. Proceeds from the Nursing Excellence Awards program support the New Mexico Center for Nursing Excellence (NMCNE). The NMCNE was established in 2003 as a nonprofit organization to convene stakeholders and facilitate dialogue and action that result in a stronger nursing workforce in New Mexico.
The NMCNE's goal is that every New Mexican has the opportunity to experience exceptional nurses when they need them the most.
For more information, visit www.nmnursingexcellence.org or call (505) 889-4518.
###
Contact:
Katherine Cox, Lovelace Health System
katherine.cox@lovelace.com
Mobile: 903-0367
Lovelace Health System consists of Lovelace Medical Center, Lovelace Rehabilitation Hospital, Lovelace Women's Hospital, Lovelace Westside Hospital, Heart Hospital of New Mexico at Lovelace Medical Center, Lovelace Regional Hospital-Roswell and Lovelace Medical Group.