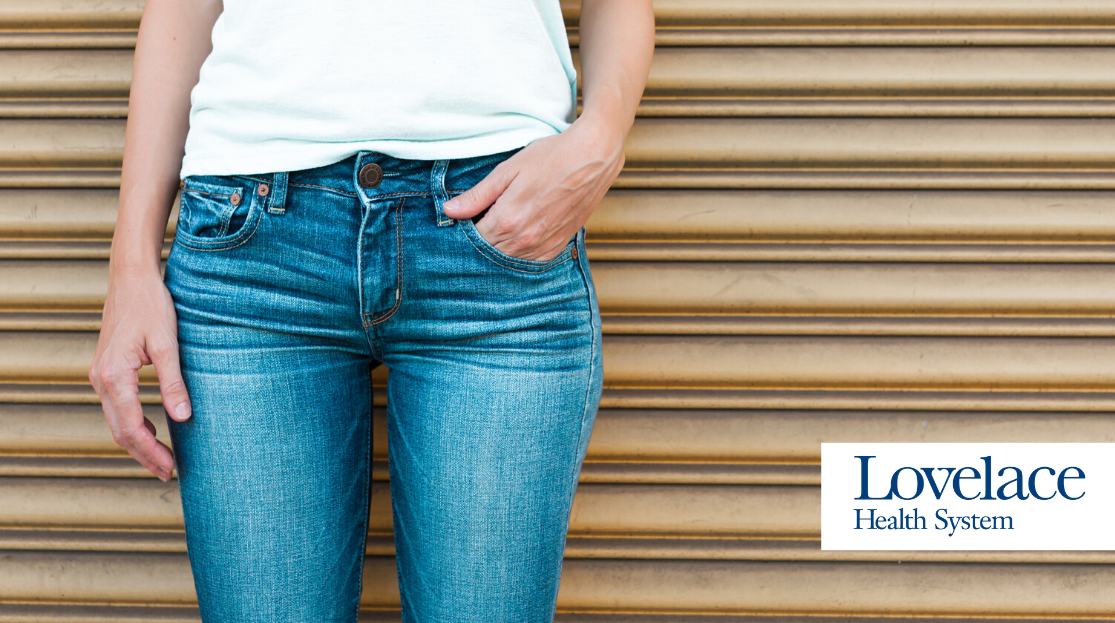 When I look into the mirror, I see me. ButI also see my mother. Yes, as we age, we can see our parents appearing right in front of us due to our genetics. There will be a certain way we look, gain weight, walk and even cross our legs based on genetics. Styles, as well as sizes, will come and go through the generations, but the need for comfort and panache in a pair of jeans remains static. Blue jeans have been in fashion since 1871, and your genes as well will never be out of fashion.
Too long, too short, too wide, baggy butt, saggy front, the complaints about how jeans fit can be endless. No matter your shape, height, inseam or size, finding a quality pair of jeans that will work with your genes is a timeless quandary. Understand, however, the process is not a quick one. We live in a world where we want instant gratification. When you shop for the "perfect" pair of jeans, plan on time. Try on many styles, sizes, and brands. You may also need to pay a higher price for jeans that fit you in the most flattering and comfortable ways.If cost is prohibitive, keep a note of the perfect brand and style, so you can find it at a thrift store later.
Use these tips for creating a look that is about you, not your pants:
· The waistband should be snug. Look for a curved, or pieced waistband, meaning it will be slightly higher at the back than the front and will curve into your waist rather than sit straight up. The yoke, or waistband in back, above the pockets should be V-shaped, if a curvy look is desired.
· Try to fit two fingers down the back. If you can fit your whole hand, they are too loose, if only one or no fingers, they are too tight.
· Women may consider no 'grab' room at the crotch. For this look, the jeans should be nice and firm when you buy them and loosen with wear.
· "Whiskering" or light-colored streaks, add interest and depth on jeans around the crotch area and is a flatting feature for some.
· Pear-shaped or curvy people who like skinny jeans should look at high waisted styles – it elongates the leg and slims down the hip. Boot cut jeans can help balance curves.
· Apple-shaped people can look for a stretch in a straight leg, and in a dark wash, as this fit can be flattering.
· Straight figures may consider adding some interest with zips and details on back pockets.
· Long legs look great in a mid to low rise to keep the waist at mid-height.
· Petite people may enjoy a high rise fit that accentuates the waist and elongates the legs.
· Pockets should sit right above the crease of the bottom if you want to make your backseat look slimmer and more lifted.
The perfect pair of jeans should last about five years. If you consider the two or three hours it may take to find your perfect pair of jeans, you've been repaid about 14,000 times at the end of five years. Your perfect-fitting pair of jeans may have cost more than you planned, but when you look and feel like a million bucks, your money has gone a long way. One of my favorite people posted, "Never wear a pair of jeans that hurt your legs or your feelings". Try not to criticize yourself because a certain pair of jeans don't fit. Love yourself enough to find jeans that love you too.
If you do have questions about any genetic or medical conditions, weight gain or loss, or just need a check-up to keep your health, please call Lovelace Care Concierge for an appointment 505.727.2727.
This blog submitted by Catherine Roth, Certified Community Health Worker for Lovelace Labor of Love
References
https://www.mythirtyspot.com/20-tips-for-buying-jeans/
https://www.thezoereport.com/p/how-to-buy-jeans-that-fit-according-to-denim-experts-15565560