Surgical perfection. Lovelace Medical Center is the only hospital in New Mexico offering patients radiosurgery using the Perfexion Gamma Knife®, the most refined tool for the treatment of the human brain. This clinically proven technology minimizes pain and represents a true breakthrough for patients who are candidates for stereotactic brain radiosurgery – surgery without a scalpel.
---
The revolutionary Gamma Knife is not a knife at all, but a leading-edge instrument that precisely focuses radiation to target and treat brain metastases, trigeminal neuralgia and arteriovenous malformations. The Gamma Knife Perfexion is a minimally invasive and clinically proven solution for:
metastatic tumors
trigeminal neuralgia
residual tumors
gliomas
acoustic neuromas
pituitary adenomas
meningiomas
arteriovenous malformations
The Gamma Knife is also used to treat many tumors previously considered inoperable. It may be used as a stand-alone therapy or in conjunction with traditional neurosurgery, chemotherapy or other radiation therapy to treat residual or recurrent brain disease.
The Gamma Knife procedure is available to patients at the Gamma Knife Center of New Mexico at Lovelace Medical Center. Over 1 million successful Gamma Knife procedures have been performed worldwide. Over 2,000 patients have been treated in Albuquerque since 2003.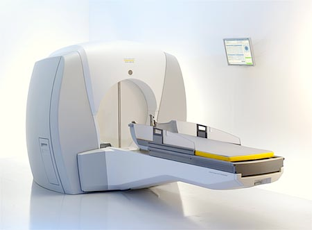 What Patients Can Expect
A day or two before the procedure, a specially trained Gamma Knife nurse will call the patient to cover any preoperative instructions, review the Gamma Knife procedure and answer questions. Patients will have the opportunity to tour the Gamma Knife facility prior to treatment. Our clinical staff is trained to address patients' concerns and to thoroughly explain the details of the procedure and its effect before, during and after treatment.

The actual Gamma Knife treatment phase can last from several minutes to several hours depending upon the number of doses required and the complexity of the plan. With the latest Gamma Knife technology, treatment times have been drastically reduced – an average savings of between 30 minutes to an hour per patient. In most cases, patients will go home one to two hours after treatment.
Patients can return to normal activities within a couple of days. The effects of Gamma Knife treatment take effect over time; weeks to months, so depending on the diagnosis, patients will not require follow-up for up to several months.
Contact Us
Because not every patient is a candidate for Gamma Knife, a multidisciplinary conference of neurosurgeons and radiation doctors meet each week to review and discuss potential cases and make recommendations for treatment.
If you are a physician and would like your patient evaluated, or if you're a patient and would like to learn more about Gamma Knife treatment, please call 505.727.8288 or toll free 866.35.GAMMA.