Lovelace Westside Hospital
Lovelace Westside Hospital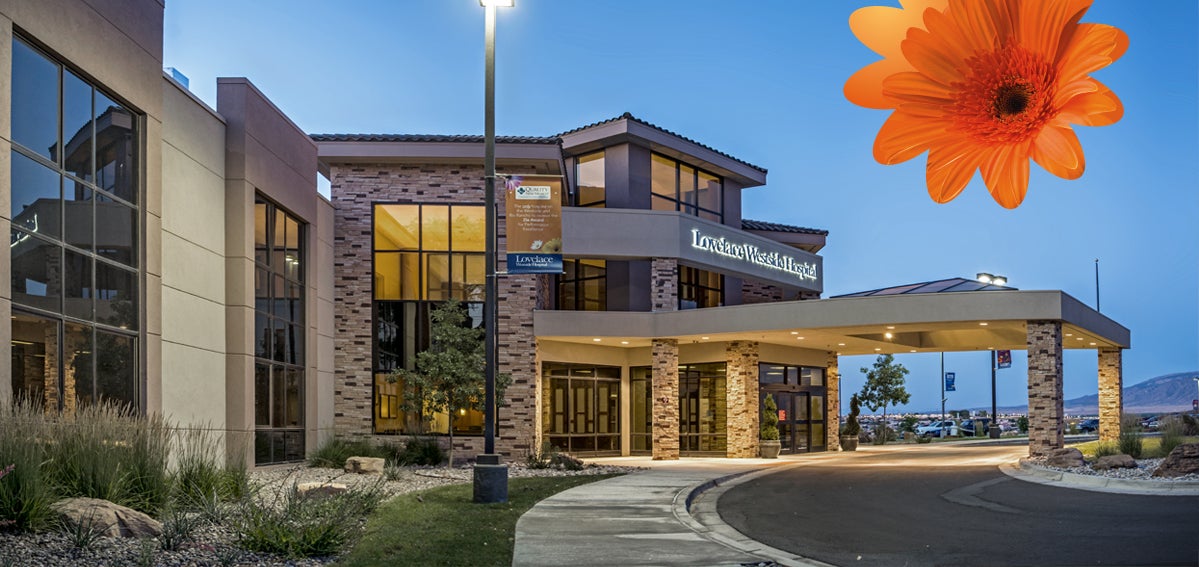 Location
Lovelace Westside Hospital
10501 Golf Course Rd. NW
Albuquerque, NM 87114
505.727.2000
Get Directions
Overview
For over 30 years, Lovelace Westside Hospital has been committed to offering Rio Rancho and Westside residents the highest quality care.
Our 24-hour emergency department offers patients the ability to see a provider in about 30 minutes or less and also includes dedicated private rooms for our senior patients and for children.
Lovelace Westside Hospital's birthing center offers nine beautiful, private rooms, 24/7 anesthesiology coverage, an OB surgical suite for C-sections, a lactation program and a special care nursery, providing a higher level of care for newborns who require special attention. In addition, we have a full suite of children's care services, including pediatric dentistry and an inpatient pediatric unit. The inpatient pediatric unit has coverage 24 hours a day, seven days week with compassionate nurses and pediatric hospitalists.
We are also home to a state-of-the-art sleep center, providing diagnostic testing and a treatment program to improve the quality of your sleep.
We use a care team approach to engage and partner with patients and families to promote optimal outcomes. Patient-and family centered care is a mutual partnership between health care providers, patients and families. We will plan, deliver and evaluate your health care together so you can expect a safe and high quality hospital stay.
With a full range of medical and surgical services, you're going to love Lovelace Westside Hospital.
---
Number of employees: 425
Licensed beds: 80
Inpatient admissions in 2019: 3,638
Outpatient visits in 2019: 27,079
Emergency Department visits in 2019: 24,743
Surgical cases in 2019: 4,030
Births in 2019: 494
Services
Children's Care Services

Inpatient Pediatric Unit
Pediatric sleep studies
Elective pediatric surgery & dentistry services
Special Care Nursery

Inpatient Rehabilitation
Hospital Services

Breast Health Center
Cardiopulmonary
Intensive Care Unit
Medical/Surgical Telemetry
Pulmonology

Outpatient Rehabilitation

Physical Therapy
Occupational Therapy
Speech-Language Pathyology

Surgical Services

Ear, Nose and Throat
Gynecology
Oral & Maxillofacial Surgery
Podiatry

Radiology Services

3D mammograms
Bone density scans
CT
Fluoroscopy
Ultrasound
Nuclear Medicine
Vascular Ultrasound
X-Ray
Awards
"A" grade from Leapfrog Hospital Safety Grade in 2017 and 2018
HealthInsight Quality Award, 2018
MOREOB Recognition Award for commitment and outstanding performance in the application of knowledge and teamwork through their involvement with the MOREOB quality improvement program, 2018
Becker's Hospital Reviews 150 Top Places to Work in Healthcare, 2016 and 2017
Modern Healthcare's Best Places to Work (2016, 2015, 2014, 2012, 2011, 2008). Ranked #17 in the nation among health care providers in 2016.
Designated a Pinwheel Champion by the Institute for Patient-and-Family-Centered Care (IPFCC) in 2016
Lovelace Bariatrics accredited as a Level 1 facility under the Bariatric Surgery Center Network Accreditation Program of the American College of Surgeons.
Blue Distinction Center for Bariatric Surgery from Blue Cross and Blue Shield of New Mexico
DNV Accredited
Click on a Doctor to View More Information