Referrals
Should you or your physician feel you need a rehabilitation program, our licensed clinical case coordinators can meet with you and your family members to discuss our programs. These specialists will help you match your needs and resources to the most appropriate programs. Our patient services representatives will work with you to determine payment options and financial resources that are available to you.
For a free home evaluation call 727.4773, or fill out our free home evaluation online form.
Inpatient Rehabilitation
If you or your family member has had surgery, an injury or illness, our comprehensive inpatient rehabilitation program can help you recover more quickly and regain and maintain as much independence as possible.
Our team of highly-skilled medical professionals will work with you and your doctor to develop an individually-designed treatment program to match the level of care you require. Your treatment program will be lead by a physiatrist and you may work with other medical professionals, including physical therapists, speech-language pathologists, case managers, pharmacists, and registered dieticians.
Our inpatient rehabilitation program includes services for:
Amputation
Brain injuries
Hip fractures
Orthopedics
Major multiple trauma
Spinal cord injuries
Strokes
Neurological disorders, such as Parkinson's disease, muscular dystrophy, neuropathies & Guillian-Barre
In addition, our multi-disciplinary team will educate you on equipment that may help you become more independent and about community resources that can help you achieve a more independent lifestyle.
Lovelace UNM Rehabilitation Hospital is the only hospital in New Mexico accredited by the commission on Accreditation of Rehabilitation Facilities (CARF) in six programs: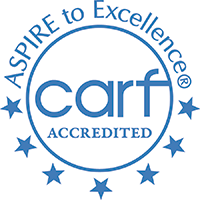 Brain Injury Inpatient Rehabilitation Programs
Spinal Cord System of Care
Stroke Specialty Program
Inpatient Rehabilitation Programs
Outpatient Medical Rehabilitation Programs (adults)
Outpatient Medical Rehabilitation Programs (children and adolescents)
CARF accreditations help set the standards for quality care for Rehabilitation Hospitals. To be accredited, hospitals must meet the standards and requirements set by this outside organization. Some examples of requirements for CARF accreditation include:
A medical director and doctors who are board certified in rehab-related specialties such as physiatry or neurology
A team approach for patient care
Regular rehab team meetings to evaluate each patient's progress
Involvement of family members in the program
Regular family meetings to keep them up-to-date with the progress of their loved ones
Patient and family education
Patient and family support
Defined process for handling emergencies
Ongoing assessment of each patient's progress in terms of abilities and level of independence in activities of daily living

Lovelace UNM Rehabilitation Hospital, along with all 5 outpatient therapy sites, received the Excellence in Outcomes Award from the Focus On ® Therapeutic Outcomes (FOTO), Inc. FOTO accreditation.
This means that all clinics, including Downtown, Wyoming, Enchanted Hills, Santa Fe, and Jemez, exceeded national norms, standardized across the United States, in outcomes excellence for four consecutive quarters. In addition, all sites combined yielded patient satisfaction scores above national norms, with a 98 percent average.
Why should you choose Lovelace UNM Rehabilitation Hospital?
Lovelace UNM Rehabilitation Hospital is an acute Rehabilitation hospital, and as such provides a level of care with important advantages over other settings such as a skilled nursing facility or an assisted living center. At Lovelace UNM Rehabilitation Hospital you can expect: