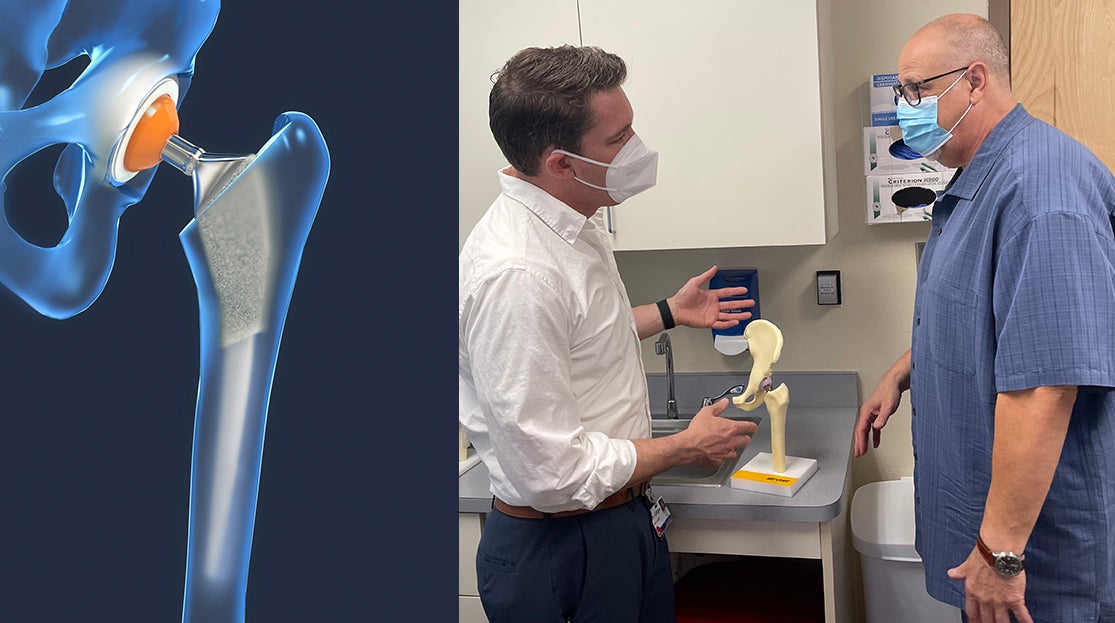 For business furniture salesman Anthony Jager, getting in and out of his car many times a day was a common occurrence. He was often traveling to universities, government offices and hospitals to introduce them to the cubicles, adjustable desks and other items he sold from his company's product line.
So when he found it increasingly painful and difficult to get out of his car, he knew he needed to see a doctor.
"I was a pretty good athlete," said Anthony. "I played ice hockey in high school and college. More recently I enjoy golf and hiking, especially when the hikes let me enjoy another passion: photography. So when my hips started limiting my work and my recreational activities, something had to change. It became so bad that I was beginning to question if I was ever going to have a normal life again," he said.
Diagnosis of Osteoarthritis
The 57-year-old resident of Albuquerque became a patient of Dr. Patrick Gilligan (pictured above), Lovelace Medical Group orthopedic surgeon who does surgical cases at Lovelace Medical Center, who diagnosed him with osteoarthritis.
Osteoarthritis is a degenerative joint disease described as "wear and tear" arthritis, which happens when the cartilage between the bones in the hip starts breaking down after decades of rubbing together.
"My hip problems started about 10 years ago," said Anthony. "By the time I saw Dr. Gilligan, I was basically crawling with a walker and could barely move or do anything. Dr. Gilligan examined me, took X-rays and said my hips were basically bone on bone, so he recommended that I have both hips replaced."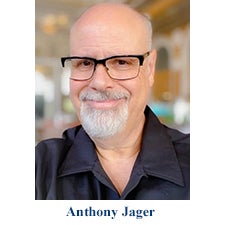 Anthony and Dr. Gilligan talked about using robotic surgery, but based on the severe condition of his hips, they decided that the traditional surgical method would be best.
Hip Replacement Surgery
In most cases involving the replacement of both hips, only one is replaced during the first surgery. This gives the patient time to heal, rehabilitate the first hip to get stronger and steadier on their feet and then replace the other hip in the second surgery.
Anthony and Dr. Gilligan talked at length about the procedure, such as how to prepare, what was going to happen and what to expect afterward. "Dr. Gilligan was very thorough on his part," he said.
The first surgery went very well. Dr. Gilligan removed the damaged sections of the hip joint: the femoral head (ball) at the top of the femur (thigh bone) and the Acetabulum (socket). He replaced these damaged sections with new parts constructed of metal, ceramic and very hard plastic. The smoothness of these new parts will help reduce pain and improve Anthony's mobility.
Rehabilitation Programs
Anthony then started an in-home physical therapy program. Physical therapists came to his home to assist him with many stretching and strength exercises over a four-week period. Occupational therapists also came to his home to see how his lifestyle and ways to care for himself might change because of the surgery.
Anthony felt so good after the first surgery and the accompanying rehab program that he moved up the date of the second surgery by about five months.
"I was going to wait until either the fall of this year or towards Christmas again as I did for the first one. But I had gotten so much relief from the first surgery that I wanted to do the next one as quickly as I could."
So six months after the first surgery, Anthony had surgery on the second hip, which turned out to be in worse shape than the first.
"Dr. Gilligan's assistant visited me in the hospital after the surgery and said it was one of the worst cases they had ever seen," said Anthony. "There were lots of cysts in the hip and the ball joint was actually worn down and shaped more like a football than a golf ball. There was a group of medical students visiting the hospital, so my surgery turned into a teaching moment for them as well," he said.
After the second surgery, Anthony did another stint of physical therapy at home and then outpatient physical therapy at the clinic for three weeks.
Moving Forward
When asked if the surgeries were a success, he replied with an emphatic "Yes! The surgeries definitely changed everything for the better," he said.
"I'm now walking three to four miles every Saturday and Sunday. I wish I could do more during the week, but with work and everything, I'm pretty tired when I get home. But, I have started back with my photography and I'm looking forward to picking up the golf clubs again."
In addition, Anthony and his fiancé are getting married this fall and are planning a two-week trip to Italy. "We are both 'foodies' and half Italian, so we want to spend a lot of time in the Emilia Romagna area of Italy, especially in Bologna, to learn more about the food and take some cooking classes."
With all the walking they will be doing on their trip, Anthony says he has to thank Dr. Gilligan and his staff.
"They made everything very easy. I have the utmost respect for Dr. Gilligan. He's a really good doctor and a good person. I have nothing but the highest praise for him and his staff.
If you are experiencing pain in your knees, hips, or other areas, call Lovelace Medical Group Orthopedics at (505) 727-2727. You can also read more and schedule an appointment on our Orthopedic Services web page.