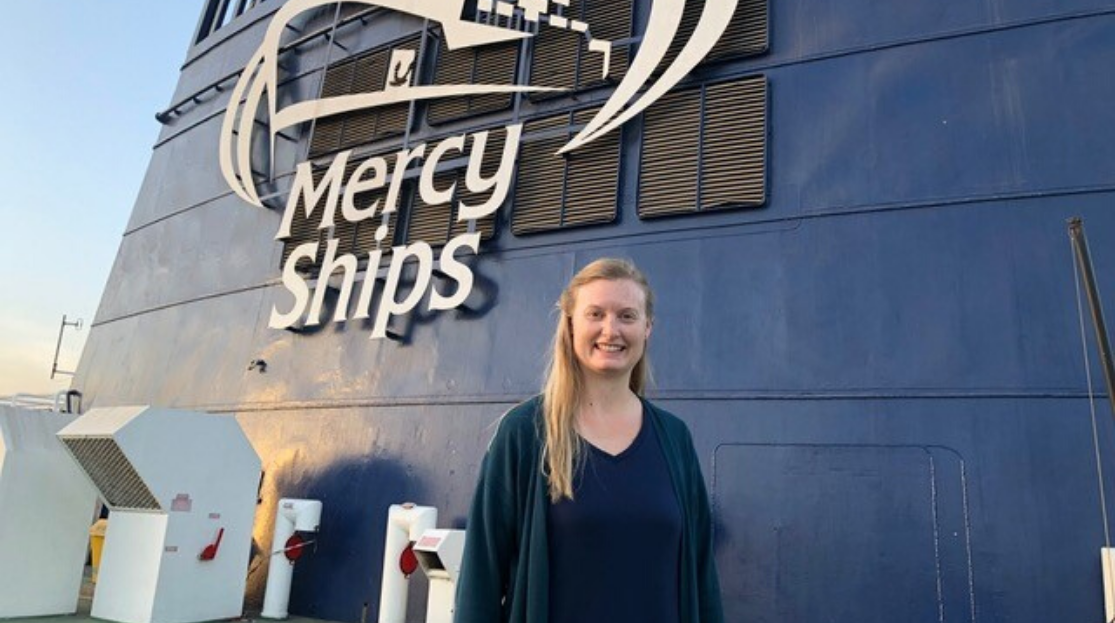 Heidi Niclas, RN, a mother-baby nurse in Albuquerque, New Mexico, was drawn to healthcare at a young age. Inspired by her grandmother, who was an emergency room nurse, Heidi dreamed of following in her footsteps to make a difference in the lives of others. In 2007, this dream was fulfilled, not only launching Heidi's nursing career at Lovelace Women's Hospital, but also putting her on a path to provide compassionate patient care more than 10,000 miles away from home.
A Mission of Mercy Sets Sail
While Heidi was first introduced to medical mission trips in high school, it wasn't until a chance encounter with a Lovelace colleague that she was reminded of her interest in this work. "One of the nurses on a different unit happened to be floating down to us one day," said Heidi. "We started talking, and she mentioned she had been to Africa with this company called Mercy Ships. I immediately thought it sounded familiar and asked her to tell me more."
What Heidi soon learned was that Mercy Ships, an international Christian medical organization, was more than she had imagined. "I always knew medical mission work was something I wanted to get involved in," said Heidi. "But, in that instant, learning about the life-changing surgeries performed by medical volunteers from around the world excited me," said Heidi. "I felt God pulling on my heart, so I applied, and six months later, I was in Madagascar."
All Aboard the Africa Mercy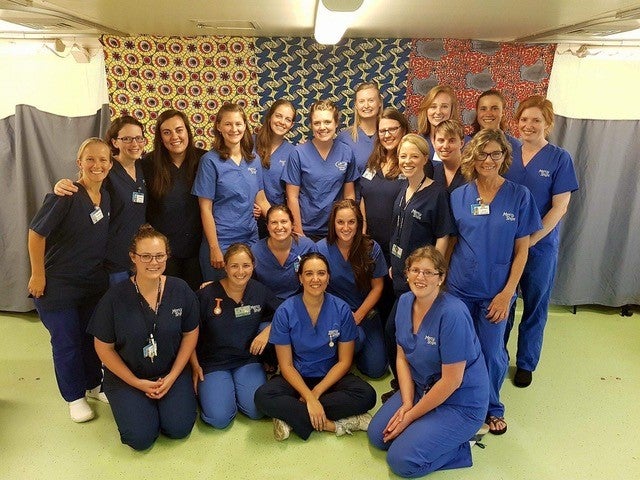 For more than 40 years, Mercy Ships has provided floating hospitals to international port cities for those in need of free, lifesaving surgical procedures. Medical volunteers, often representing more than 50 nations, live on the ship and work different shifts to provide care. "The Africa Mercy is currently the only ship in service, providing medical treatments 10 months out of the year for those living near port cities in Africa," said Heidi. "It's the largest non-governmental hospital ship in the world and holds about 450 crew members on board."
While on the Africa Mercy, medical volunteers assist in a variety of procedures through five operating and recovery areas, totaling 80 patient beds. Areas of focus include eye care, general surgery, cleft palate surgery, oral health, plastic and reconstructive surgery, orthopedic surgery, mental health, palliative care and women's health. "It's such a rewarding experience and has expanded my knowledge," said Heidi. "One time they assigned me to be a charge nurse on a ward for general surgery, which included cataracts, thyroids and overflow for orthopedic and plastic surgery cases. I had never done that before, so it definitely made me so much more aware of how procedures are performed."
Since her initial interest in Mercy Ships, Heidi has completed a total of three medical mission trips, which includes time spent in Madagascar, Cameroon and Senegal. "While each of my missions have lasted between two to three months, I haven't had the opportunity to actually sail with the ship," said Heidi. "I usually fly in to the port where the ship is docked, which ends up being a very long trip, including multiple flights, and in the case of Madagascar, a 10-hour bus ride to the city."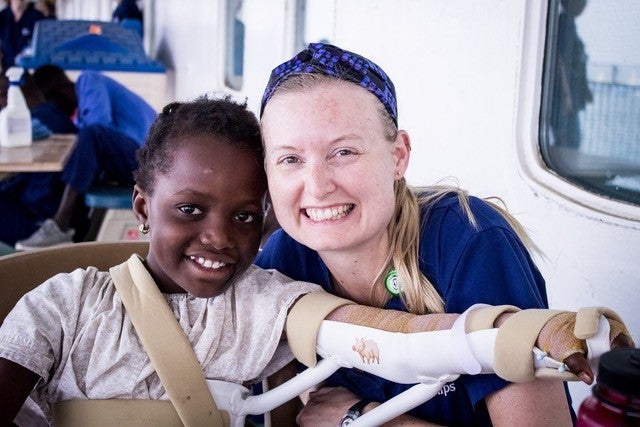 But, for Heidi, giving back is worth the long travel, as her time on board has exposed her to many smiles of gratitude from patients of all ages. "Every patient is so special and they are forever appreciative of our work, often smiling through the pain because they know they are receiving care," said Heidi. "One time, one of our youngest patients was undergoing thyroid surgery. I remember her being so scared, as this was a whole new experience for her. And before I left for a couple of days off, she just held onto me, and we cried because we had grown so close. Even though we couldn't speak the same language, we just had this trust together of knowing each other."
A Sea of Support
Since 2015, when Heidi accepted her first mission, Lovelace Women's Hospital has been alongside her for the journey. "We are proud of Heidi in her desire to make a difference, not only here at Lovelace but beyond, as well," said Dawn Kregel, Chief Nursing Officer at Lovelace Women's Hospital. "And when she travels for her mission work, all of us enjoy following her experiences through the newsletters, messages and photos she sends back to us at the hospital."
Upon return, Lovelace encourages Heidi to share her stories and learnings. "After my first trip, I spoke at one of our town hall meetings," said Heidi. "And when student nurses come through, I love to be able to share my experiences with them, too."
Additionally, Heidi loves bringing back not only new learnings but also a way of hospitality that she weaves into her care and interactions with others. "Wherever you go in Africa, people just open up their homes," said Heidi. "They always want to make sure you have food to try and eat. And while I have always had a desire to give, I now try even harder in everything I do to make sure those around me feel welcome – whether it's a patient in the hospital or somebody coming to my house."
On the Horizon
With the current uncertainties of COVID-19, Heidi isn't sure when her next mission will be, but she does know she'll return. "At this time, the Africa Mercy is in dry dock due to COVID-19, but I'm saving up my vacation days because I definitely want to go again," said Heidi. "In the meantime, my focus is on our patients at Lovelace, as together, we are committed to taking every precaution necessary to provide the best care for our patients in a safe manner."
Additionally, Heidi stated, "Lovelace has continued to provide me the opportunity to not give up on my dreams, and every morning when I get up, I look forward to my opportunity to give back – my chance to make a difference in someone else's life."
To learn more about Mercy Ships and their mission, please click here. To learn more about Lovelace Women's Hospital, please visit our website by clicking here.