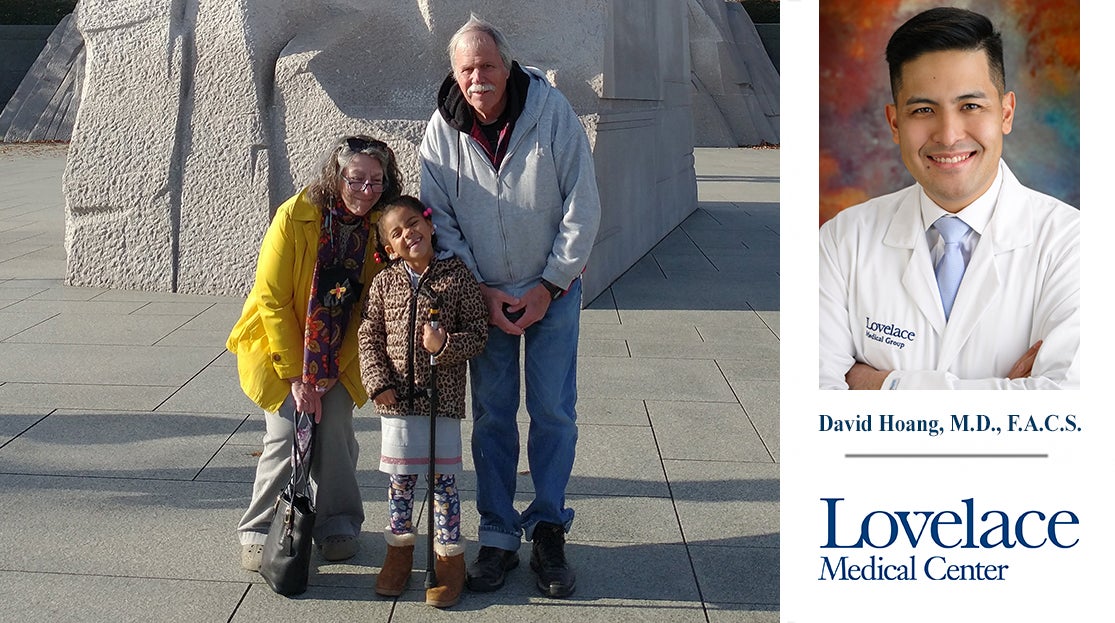 When Kate Klose woke up at her Los Alamos home after sleeping 12 hours straight, she didn't expect the pounding headache or understand the severe pain in her gut.
The 69-year-old retired filmmaker, educator and musician had just returned with her husband from a two-week vacation to visit family in Long Island and upstate New York.
"When I got up to shower, the pain started increasing gradually from a 2 to a 7 by the time we arrived at our local hospital," said Kate. "I had no idea what was causing it, but I started to get a feeling, a very strong sense that my life was in danger."
The physician in the emergency department examined Kate, conducted tests and offered pain management. He said that her condition was very severe, so she couldn't go home or stay at the hospital because they could not provide the required treatment.
Fortunately for Kate, the doctor was able to get in touch with Dr. David Hoang, the lead emergency general surgeon at Lovelace Medical Center.
Flight to Albuquerque
With Kate's condition critical, the hospital ordered that she go the 95 miles to Albuquerque by air transport.
"The ambulance from Los Alamos Fire Department Company #4 came to collect me at the emergency room, bringing along a four to five-person medical crew. Everyone to this point was brilliant, professional and compassionate. I am so grateful for everyone in Los Alamos and their excellent management of my baffling situation," she said.
"As the ambulance pulled away, I remember clearly looking back and seeing my husband standing there, looking concerned and worriedly waving. I suddenly realized that I might not see him again, but I wasn't worried. I was extremely calm, which speaks as much to my trust in all the competent professionals as it does to my faith."
Late Night Surgery
Dr. Hoang, already dressed in his surgical scrubs, met Kate in her room when she arrived that evening at Lovelace Medical Center.
"He asked me some questions and described what was going to happen during the surgery," Kate recalled. "I felt very reassured and appreciated his candor and the sobering talk about the severity of my condition. If I survived the surgery, I could wake up in the Intensive Care Unit (ICU) with lots of tubes in me. If I wake up in a post-op room, I should definitely count my blessings."
Dr. Hoang diagnosed Kate with a severe case of peritonitis — an inflammation of the peritoneum, which is the silk-like membrane that lines one's inner abdominal wall and covers the organs within the abdomen. Peritonitis is usually caused by a bacterial or fungal infection.
The chief complaint of patients with peritonitis is abdominal pain. At first, the pain may be dull and spread out. In time, it often progresses to steady, severe and more localized pain.
"Kate had septic shock and was at a high risk for mortality," said Dr. Hoang. "She has a complicated surgical history related to past operations. During surgery, we repaired a perforation in her small intestine that caused the peritonitis."
Recovery for the Future
Kate doesn't remember much of the 20+ hours after the operation. When she awoke, she was in a room on the 8th floor of Lovelace Medical Center.
"I remember feeling pretty happy and upbeat that day because the sun was shining and I could see the mountains," she said.
According to Kate, her results were apparently better than anyone, except her, was expecting.
"I saw and heard from various staffers – some with versions of shock and surprise – who convinced me that the surgery had produced excellent results. I believed them. My energy level was good, I responded well to the physical therapy and I was healing quicker than expected."
Kate had high praise for her doctors and the entire staff at Lovelace Medical Center.
"I didn't want to leave. I felt so well taken care of by everyone who'd been involved in every imaginable part of my treatment and recovery. The surgical, medical and therapeutic specialists, along with those in the many subsets of their departments (wound care, radiology, etc.), the housekeepers, transporters and dietary workers were all amazing."
Kate said the staff was friendly and helpful beyond measure, even during those months when COVID was looming.
"These folks were probably short-staffed, pulling double shifts, risking their family's health and well-being, along with their own. I felt honored when their personal stories were shared and admired the spirit with which they carried on with their jobs," she said.
The medical professionals she connected with were put on Kate's special list. "I keep a list of about 50 people who made me feel well-cared for and safe. They are my angels," she said.
Now that she is back up on her feet, Kate and her husband look forward to future travels and visits with family members.
"This year we went to Victoria, British Columbia for our grandson's 4th birthday and later to Maine to stay at our elder son's new home. Next spring we are planning a trip to Ireland to visit our youngest daughter and a number of dear friends."
But no matter where she wakes up, Kate will continue to count her blessings every day, especially the blessings on that long list of 50+ people.
"The surgery changed my life in many ways. A year has passed and I'm grateful to be alive. All those angels will remain forever in my heart and prayers."
For more information about the comprehensive medical services offered by Lovelace Health System, visit our website.