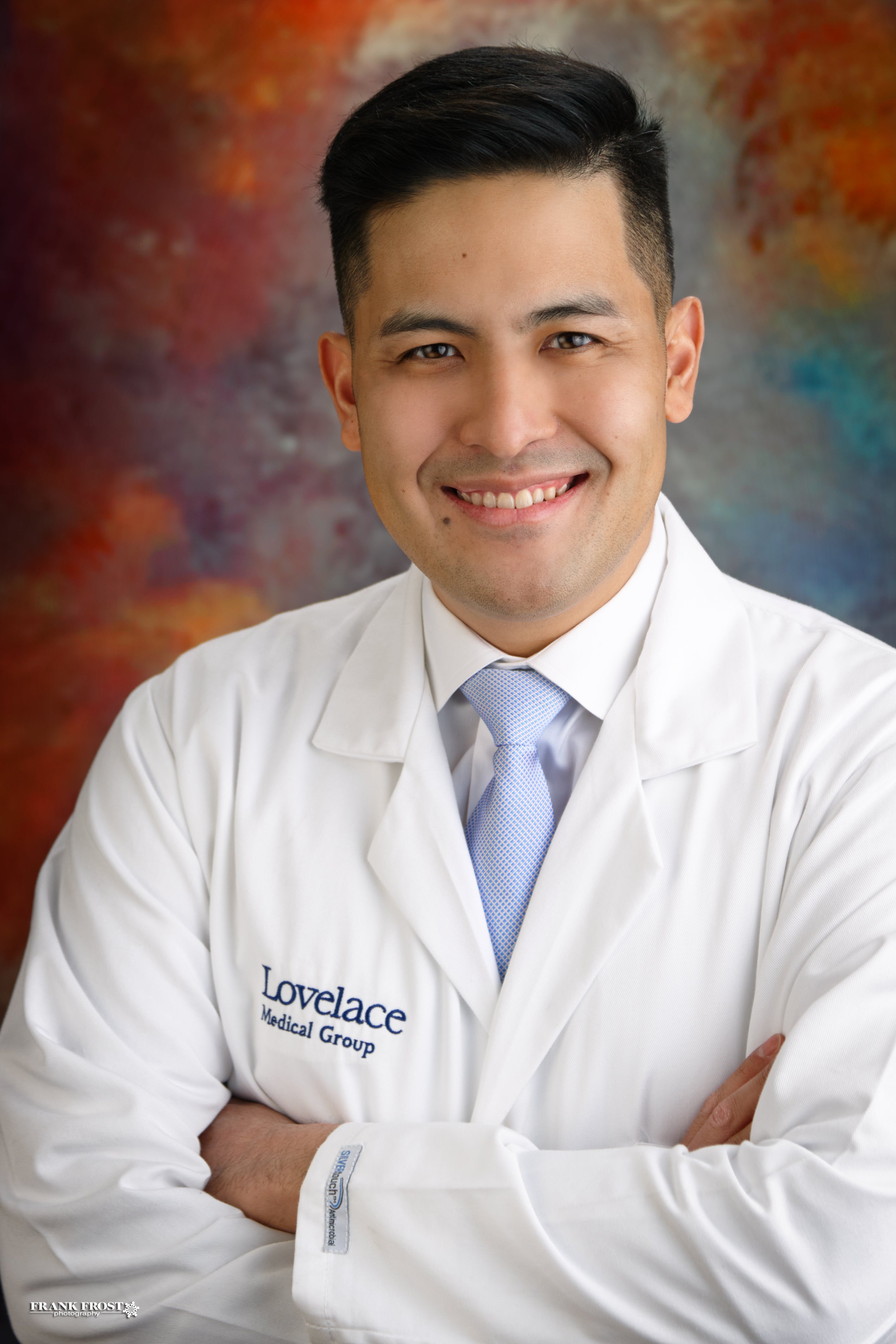 Specialties
General Surgery
Robotic Surgery
Office Location
St. Joseph Square
715 Dr. Martin Luther King Jr. Ave NE
Albuquerque, NM 87102

Get Directions
Office Location
Lovelace Medical Group | Walter St
500 Walter Street NE, Suite 401
Albuquerque, NM 87102

Get Directions
About David Hoang, M.D., F.A.C.S.
David Hoang, M.D., F.A.C.S., is a highly skilled and experienced general surgeon, renowned for his exceptional care and commitment to his patients. Dr. Hoang is board-certified in surgery and surgical critical care, with expertise in a broad range of surgical procedures. He specializes in the treatment of gallbladder and pancreatic diseases, gastrointestinal cancers, hernias, and other complex conditions. He is also experienced in robotic surgery, and has trained multiple surgeons on the advanced da Vinci Xi Surgical System.
Devoted to providing the highest quality of care, Dr. Hoang takes the time to build a strong doctor-patient relationship and understand each individual's unique needs. He firmly believes in patient education and ensures that his patients are well-informed about every aspect of their surgical journey.
His passion lies in caring for patients who have faced significant illnesses, including those with multiple intra-abdominal surgeries, chronic wounds, massive hernias, enterocutaneous fistulas, and unwanted ostomies. He is the founder of Lovelace Medical Center's Heartburn Clinic, created to improve access and prevent serious difficulties in those suffering from esophageal and stomach disease. His ultimate goal is to ensure that all individuals in New Mexico have access to the highest-quality surgical care.
Dr. Hoang graduated with the highest honors, Summa Cum Laude, from the University of Houston. He was a research fellow at Texas Children's Hospital and Baylor College of Medicine. He earned his medical degree at The University of Texas Southwestern Medical Center, where he had a strong focus on community health. He volunteered extensively to improve healthcare access for the homeless as well as expand injury prevention within low-income communities. He completed his residency in General Surgery at the University of New Mexico, where he received comprehensive training in various surgical disciplines. Dr. Hoang pursued a clinical fellowship in trauma and surgical critical care at Cedars-Sinai Medical Center, known for its excellence in surgical care. Holding board certifications in surgery and surgical critical care, Dr. Hoang demonstrates his commitment to maintaining the highest professional standards.
Throughout his career, Dr. Hoang has performed thousands of successful operations, showcasing his exceptional surgical skill. In addition to his clinical practice, he has actively contributed to the future of general surgery by training residents and attending physicians. Dr. Hoang's commitment to education and mentorship has played a vital role in the growth and development of practicing surgeons, equipping them with the skills needed to deliver exceptional care.
Dr. Hoang's expertise extends to advanced robotic surgery using the da Vinci Xi Surgical System. This cutting-edge technology enables precise and minimally invasive procedures, resulting in improved patient outcomes and faster recovery times. By sharing his knowledge and training others on this innovative platform, Dr. Hoang has contributed significantly to advancing surgical care across communities throughout the country.
Beyond his clinical and educational contributions, Dr. Hoang is an accomplished researcher, having presented on various surgical and critical care topics and published in esteemed journals. He actively engages with the surgical community as a Fellow of the American College of Surgeons and a member of the American Medical Association, the Americas Hernia Society, and the American Foregut Society. Dr. Hoang also serves as an Assistant Professor for the Department of Surgery at the University of New Mexico School of Medicine and for Burrell College of Osteopathic Medicine, imparting his knowledge and expertise to the next generation of physicians and surgeons.
Within the Lovelace Health System, Dr. Hoang has held several important positions, including serving on the peer review committee, ethics committee, medical executive committee, and committee on cancer. He has been the lead physician for surgery and the medical director for Lovelace Emergency General Surgery, overseeing a regional surgical service supporting hospitals in New Mexico, Arizona, and Colorado. Dr. Hoang's commitment to improving healthcare extends beyond his immediate practice, as he also serves as a valued member of the State of New Mexico Medical Advisory Team.
Outside of his professional commitments, Dr. Hoang enjoys outdoor activities such as snowboarding and overlanding. His passion for wilderness medicine is evident through his Advanced Wilderness Life Support license. He has received various accolades, including the Mayor's Public Safety Hero's Award in Albuquerque, NM in 2016 and the Adjutant General of New Mexico's Award for Excellence presented by the New Mexico National Guard in 2021. Furthermore, Dr. Hoang has been honored as a TOP DOC in General Surgery by Albuquerque The Magazine, solidifying his outstanding reputation in the field.
To learn more about Dr. Hoang and to read patient testimonials, click here, here, here and here.