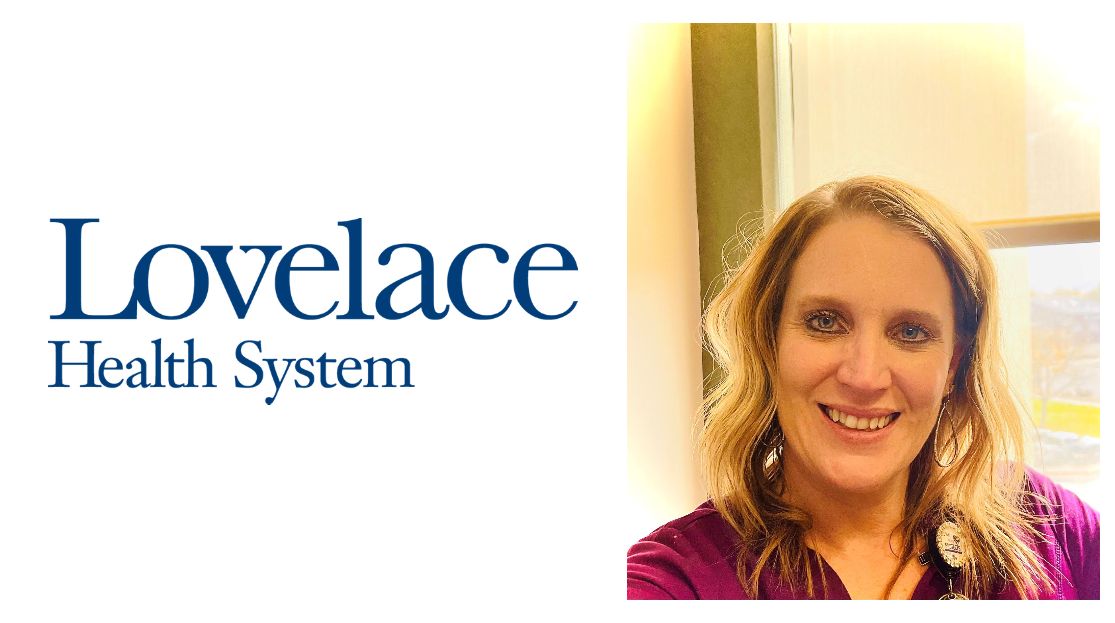 Ever since she was a little girl Ashley M. knew she wanted to do something that involved working with and helping children. The obvious paths in her mind were motherhood, teaching or nursing. She decided to become a mother first, and then pursue a career in healthcare by enrolling in nursing school during her third pregnancy.
"It was a good career for a young mom because usually, as a floor nurse, the schedule is pretty flexible," Ashley explained. "It's something that you can do as a young mom and still raise your kids, which was a big goal for me. I did start my career in surgical oncology, which I feel was super important because labor and delivery is a big specialty. I feel like I picked up a lot of nursing skills that you don't necessarily get all the time in a specialty, and that's helped me as I've grown and advanced in my career."
After 14 years on the floor, Ashley switched over to a management role as Nurse Manager, Labor & Delivery.
"It was beneficial for me to start where I did and grow into my career because I knew the floor really well," she said. "And now I really enjoy being able to jump in on the floor sometimes and help out. And I think as a manager it's important to understand when the nurses come to you with concerns or problems, that you understand what they're talking about."
Nursing may be nothing new to Ashley, but her journey to Lovelace Women's Hospital was a recent and sudden life change for herself and her family.
"I've only been in New Mexico, and at Lovelace, for about three months now," she shared. "A friend of mine was working at Lovelace Women's, we had worked together at another hospital in Colorado for four and a half years, and one day, out of the blue she contacted me and was like, 'Hey, what do you think about coming to Albuquerque?' It was something that had never even crossed my mind; I mean, I have seven kids. But she talked very highly of the hospital and the health system. So I just mentioned it to my husband and was shocked when he actually encouraged me to apply."
As excited as she was to explore this new opportunity, Ashley remembers feeling a rush of anxiety thinking about the interview process.
"I mean, I don't know anybody who loves to interview but I personally hate interviewing," she said. "But of course, when I heard back I did it, and honestly when I got off the interview I was like, 'Wow, that took an hour?' It didn't even feel like it. I just kind of felt at home, like I was talking to family, and there were quite a few people involved in my interview, too. Even though there were some really tough questions, it was actually a great interview."
After a few rounds of interviews, Ashley and the family decided to take a chance and move to Albuquerque.
"With seven kids, we're pretty outdoorsy people, so we've done lots of things here in Albuquerque already," she said. "We've already been green chili picking and we did the Balloon Fiesta, we've also gone hiking. And there's a whole bunch of things we haven't even done yet."
Ashley's settling into Albuquerque and her new role, enjoying the new challenges and perks.
"So right now, in the management position, I love just being able to interact with the nurses and help them solve problems," she explained. "And it's not only about making them happy but seeing the patient satisfaction as well once we've figured out a solution to benefit everyone."
With the purpose of caring for others at the center of the operation, a culture of support and collaboration is flourishing amongst leaders and staff members.
"Here I've noticed that the leadership team, including the CEO and my director, are very helpful for new leaders and to the nursing staff," she shared. "They know a lot of information. And when they don't know the answer or the best way to do something, they're always open to new information. If there's stuff that I know, that I can bring to the table, they want to know that. And if there's stuff that they know, they're willing to teach me. As a new leader, I think it's great on both ends."
To learn more about open positions at Lovelace Health System, visit our career page: https://jobs.ardenthealth.com/new-mexico.