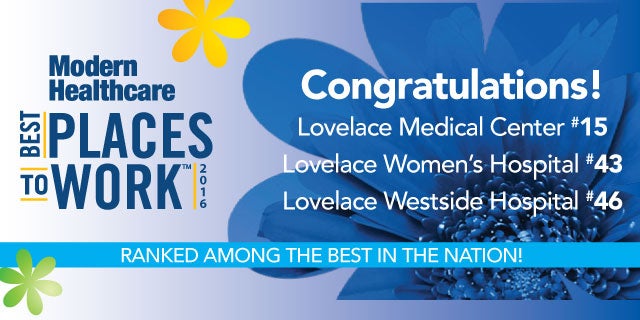 We are honored to announce that Lovelace Medical Center, Lovelace Westside Hospital and Lovelace Women's Hospital have been listed by Modern Healthcare on the Best Places to Work in Health Care as 15th, 46th and 43rd, respectively, of the top 100 organizations overall. In the provider category, Lovelace Medical Center was listed fourth, Lovelace Westside Hospital was listed 17th and Lovelace Women's Hospital was listed 16th. The rankings were announced Thursday evening in New Orleans, LA at the awards dinner. Our Lovelace hospitals join two other facilities receiving this recognition within Ardent Health Services, our parent company based in Nashville, TN. No other organization or health system had more facilities make the prestigious list.
"You are joining a true team," shares Administrative Director Sherry Aragon, BS, CNMT, RT (N) of the work environment at Lovelace Women's Hospital. "We approach everything as an integrated team." Sherry says it is a team approach from the top down. "The staff feels appreciated. They believe senior leadership understands their needs and acts on them. I have not worked with a senior leadership team that has had this much engagement."
Case Manager Stacy Elliott says the friendliness she felt stood out to her almost immediately when she was interviewing at Lovelace Westside Hospital. "I was really taken back by the friendliness of everyone that I interacted with from the time that I came in, met with the other case managers and had my interview. You could tell everyone was working together so well."
Finding a place where Windra Stringham, RN, BSN could grow in her career attracted her to Lovelace Medical Center. "Continuing education is supported," she says. "I have been encouraged to take courses in leadership and get involved with committees. That's helped me grow as a nurse tremendously."
This is Lovelace Medical Center's first year on the list, the sixth year for Lovelace Westside Hospital and the eighth year for Lovelace Women's Hospital. "At Ardent, we invest in people by providing our hospitals with the freedom and tools to create an environment where employees feel valued and supported and patients receive the highest quality of care," said Ardent President and Chief Executive Officer David T. Vandewater. "We are honored that our facilities continue to be recognized for their success in creating a culture that not only attracts and retains the very best talent, but also motivates employees to go above and beyond."
In its ninth year, Modern Healthcare's Best Places to Work list recognizes 100 healthcare organizations with high-performing cultures that allow physicians, nurses and staff to work at their best, which, in turn, assures patients receive outstanding care. Winners are selected based on interviews with leadership and an employee survey, which assesses satisfaction, work-life balance, communication, policies and practices, work environment and culture. The full list of winners is available here.