If you are experiencing one or more of the following symptoms of stroke, you should call 911 immediately, even if the symptoms cease on their own.
Sudden weakness, paralysis or numbness of the face, arm or leg, especially on one side of the body
Sudden onset of double vision, dimness or loss of vision
Sudden difficulty speaking or understanding language
Sudden severe headache without apparent cause
Unexplained dizziness, unsteadiness or loss of balance, especially in combination with other signs
All of these symptoms could be related to other conditions, so it is important that you receive proper diagnosis and treatment. If it is a stroke, the best chance for recovery is to receive treatment within the first three hours after onset of symptoms.
---
At Lovelace Medical Center, we are proud to offer a 12-bed dedicated stroke unit with neurosurgery services and 24/7 neurology coverage.
Early Intervention is Key
What's done in the first minutes or hours after a stroke may determine the level of recovery the person will achieve. Lovelace Medical Center treats every incoming stroke patient as an emergency. Patients arriving in the emergency department experiencing stroke symptoms are evaluated for possible treatment with t-PA (Tissue Plasminogen Activator).
Lovelace Medical Center's emergency medicine physicians have been trained in the assessment of acute stroke and work in collaboration with our highly trained neurologists to ensure a quick diagnosis.
An Interdisciplinary Team
Lovelace Medical Center's highly-trained stroke team is prepared with the skills and equipment necessary to quickly assess stroke symptoms and determine the proper immediate treatment.
Our expert stroke team consists of neurologists specially-trained in stroke diagnosis and treatment, emergency department physicians, registered nurses, respiratory therapists and emergency department staff who provide immediate response which dramatically impacts a patient's successful recovery.
This team can be accessed 24/7 in response to the emergency department, as well as other hospital departments, for urgent patient assessment. Other members of the Lovelace Medical Center team include physical, speech and occupational therapists, dietitians, case managers and social workers. The team also relies on the excellent services of Lovelace Medical Center's lab, pharmacy and radiology departments.
Our Stroke Center Certifications
Being honored for excellent patient care is the best recognition a hospital can receive. These certifications recognize Lovelace Medical Center's ongoing dedication to excellent stroke care, but our greatest reward is serving our patients. That's why we're committed to turning treatment guidelines into lifelines.
DNV-GL accreditation as a Primary Stroke Center
DNV-GL's Primary Stroke Center Certification is based on elements from their NIAHO® hospital accreditation standards, as well as requirements from the Guidelines of the Brain Attack Coalition and recommendations of the American Stroke Association. A list of programs certified by DNV-GL is available at www.dnvglhealthcare.com.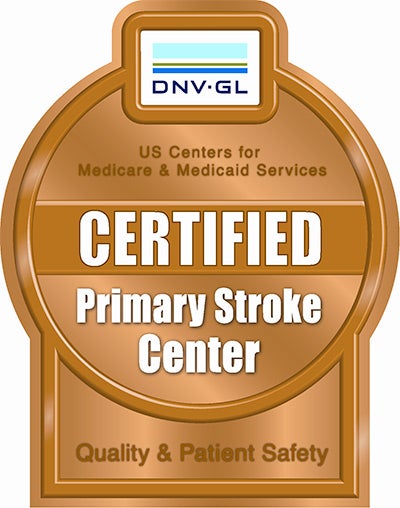 ---
American Heart Association/American Stroke Association's Get With
The Guidelines ® Gold Plus Award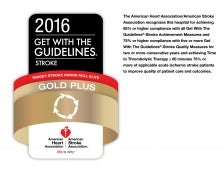 ---
American Heart Association/American Stroke Association's Target: Stroke Honor Roll
This award recognizes Lovelace Medical Center's commitment to improving stroke care.