A program just for seniors. Lovelace Health System is pleased to offer Lovelace Silver Elite, a complimentary program created exclusively for people age 60 and older.
---
Designed to help seniors get more out of life, Lovelace Silver Elite provides opportunities for new friendships, social activities, health seminars, and valuable health screenings. Lovelace Silver Elite members enjoy complimentary events including, educational health seminars and exclusive in-hospital amenities that will make you feel like a true VIP. Whether you are looking to meet new friends, improve your health or just have some fun, it's hard to beat the benefits of the Lovelace Silver Elite Program.
We welcome ALL insurance plan holders.
---
Silver Elite Benefits
Activities to help you stay active and healthy including in-hospital amenities.
Where the Fun Begins
Life doesn't have to slow down when you turn 60. In fact, that's when the real fun begins! Lovelace Silver Elite helps you stay active and healthy with a wide variety of activities including:
Complimentary educational classes on a variety of health topics
VIP invitations to health fairs and other events
Complimentary Lovelace Silver Elite t-shirt and water bottle
Health screenings and flu shots, when available
Silver Linings member e-newsletter
Hospital Amenities
In addition to activities that help you stay healthy, Lovelace Silver Elite provides important benefits for those who require hospital care. From expedited check-in to special hotel-like amenities, you will receive VIP treatment throughout your stay.
Free valet parking, at select hospitals

Personal visit from a Hospital Administrator

Complimentary Lovelace Silver Elite bathrobe
One complimentary meal during your stay for a friend or family member at the hospital cafeteria
Best of all, Lovelace Silver Elite gives you a chance to meet new friends and make lasting memories.
Silver Elite Gifts
Age has its rewards. It's time to enjoy them.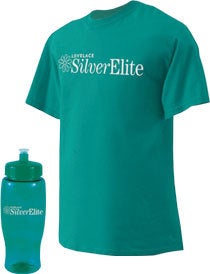 Membership is complimentary and you will even receive a Lovelace Silver Elite T-shirt and water bottle at your first event. From complimentary events, luncheons, breakfasts, prizes, Silver Elite bathrobe, and welcome gifts, Lovelace Silver Elite offers something for everyone.
Upcoming Education Classes
'What is Telemedicine'
January 27, 10 a.m.-11:30 a.m.
Lovelace Regional Hospital
117 E 19th Street
Roswell, NM
RSVP: 1.877.419.3030
'Cancer Screenings '
January 29, 10 a.m.-11:30 a.m.
Lovelace Women's Hospital
4701 Montgomery Blvd NE
Albuquerque, NM
RSVP 898.3030
Sign Up
Become a Member Today
Ready to join, or have more questions? Call 505.727.5501 today for more information.