Overview
Lovelace Health System offers pain assessment, interventional pain management services by physician specialists and referrals for outpatient therapies when needed. Our goal is to provide our patients with healing-oriented medicine with an emphasis on the therapeutic relationship and a partnership between the patient and practitioner to provide our patients the chance of an active and rewarding life.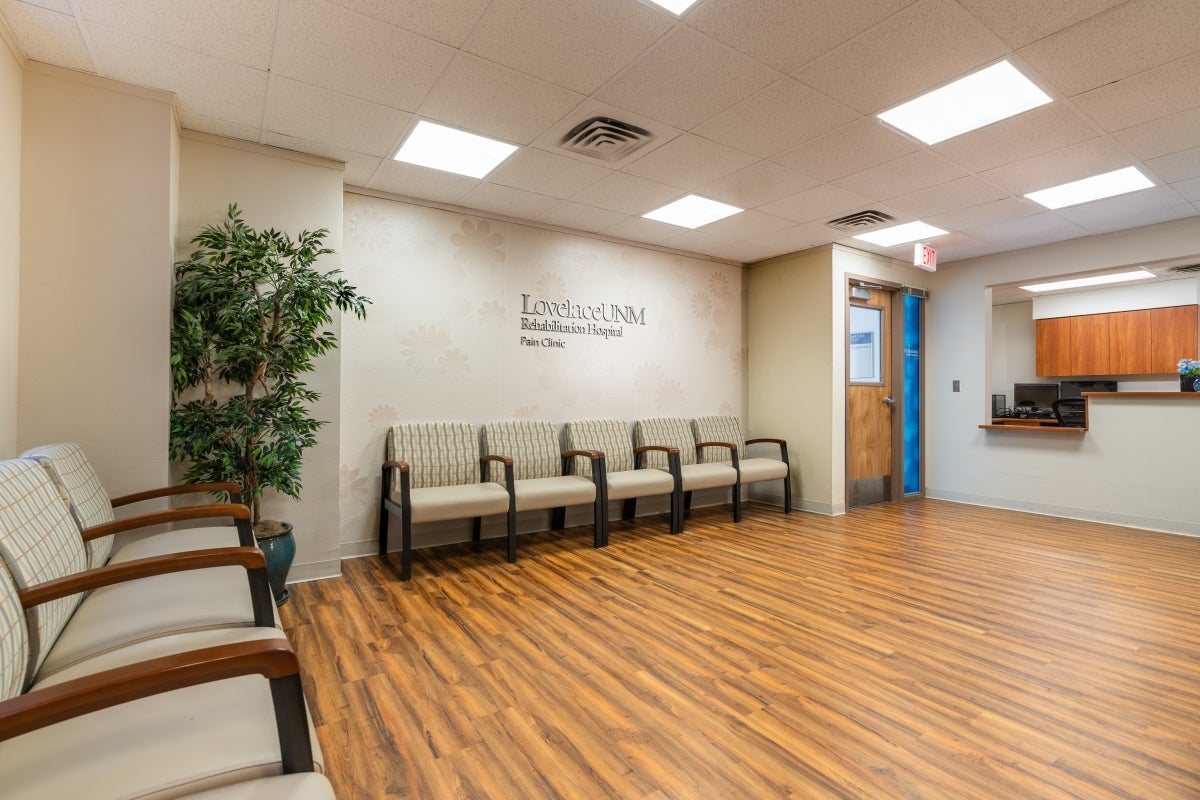 Conditions
back pain
chronic pain
cancer pain
Complex Regional Pain Syndrome
diabetic neuropathy
phantom limb pain
shoulder and joint pain
spinal stenosis
Treatments
caudal injections
cervical, thoracic and lumbar epidural steroid injections
joint injections
massage therapy
nerve block injections
paravertebral facet injections
pelvic floor rehabilitation
peripheral nerve blocks
physical and occupational rehabilitation
radio frequency ablation
sacroiliac joint injections
spinal cord stimulation
trigger point injections
Additional Outpatient Services
Please note: Some services received in our clinics may be considered hospital-based; therefore, patient billing statement will be divided into two separate charges, which may include both a facility fee and a provider fee. For questions, please contact our Patient Financial Services office at 505.727.0100 or 866.948.1444 from 8:00 a.m. to 5:00 p.m. Monday – Friday. Patients are responsible for the amount due portion of the statement for patient care services rendered.
aquatics
occupational therapy
physical therapy
pre-employment, worksite and ergonomic evaluations
speech therapy
To make a new patient appointment, please call 505.727.2727
PM&R
Physical Medicine & Rehabilitation
Physical Medicine and Rehabilitation (PM&R) is a field of medicine that helps people of all ages with serious injuries and disabilities imporve their function and quality of life. PM&R physicians, also known as Physiatrists, diagnose and treat a variety of medical conditions that affect the brain, spinal cord, nerves, bones, joints, ligaments, muscles and tendons. Physiatrists may also work with other physicians, which may include primary care physicians, neurologists, orthopedic surgeons and many others, ensuring extensive patient care.
Our physicians are dedicated to helping patients with the following conditions:
Electrodiagnostics
Multiple Orthopedic Injury
Muscle and Joint Pain
Nerve Conditions
Spasticity
Spinal Cord Injury
Stroke
Traumatic Brain Injury
PM&R Physicians use the following treatments and procedures:
Disability and impairment assessment
Discography, disc decompression and vertebroplasty/kyphoplasty
EMG/nerve conduction studies
Fluoroscopy guided procedures
Manual medicine/osteopathic treatment
Medico-legal consulting
Nerve and muscle biopsy
Nerve stimulators
Prosthetics and orthotics
Spasticity treatment
Ultrasound guided procedures
To make an appointment, please call 505.727.7177
Locations
500 Walter Street NE, Suite 213
Albuquerque, NM 87102
505.727.7177
101 Hospital Loop Dr., Suite 109
Albuquerque, NM 87109
505.727.1515
To make a new patient appointment, please call 505.727.2727