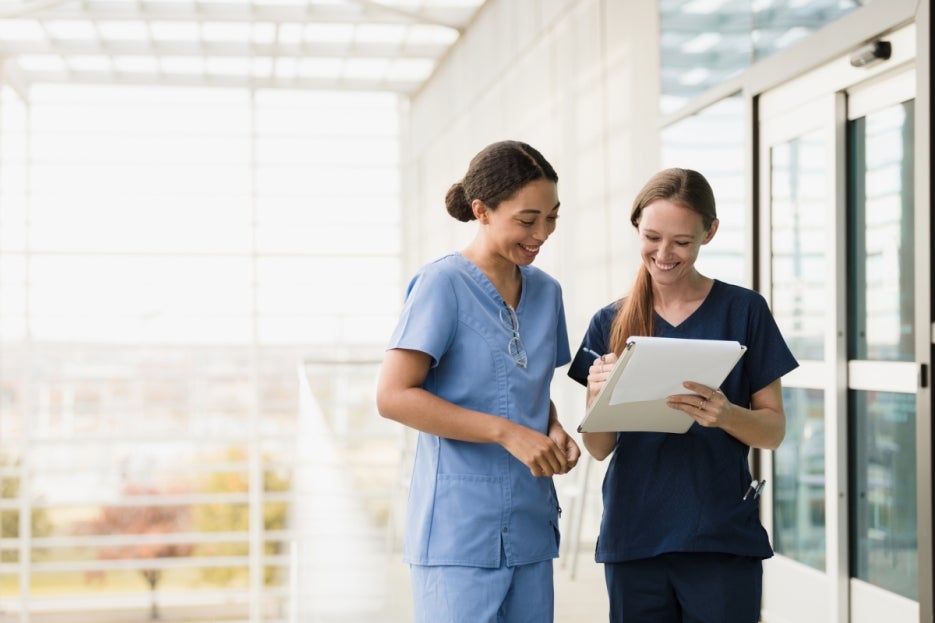 ALBUQUERQUE – October 17, 2023 – Lovelace Health System (LHS) was awarded the American Nursing Credentialing Center (ANCC) Practice Transition Accreditation Program (PTAP), signifying that the hospital is following best practices and utilizing an evidence-based curriculum that is focused on helping the new graduate nurse transition from student nurse into professional nursing practice. LHS is one of only 249 programs in the world who have received this accreditation.
PTAP programs set the standard for residency or fellowship programs that transition registered nurses (RNs) and advanced practice registered nurses (APRNs) into new practice settings.
The curriculum addresses common struggles for new graduate nurses during their first year of practice and includes topics such as interdisciplinary communication, delegation, time management, prioritization, evidence-based care and culturally competent care.
"Research on accredited residency programs has shown improvement in the confidence and safety of the newly practicing nurse, as well as improved engagement and reduced turnover," said Abigail Kendall, chief nursing officer for Lovelace Medical Center. "One of the greatest benefits to our new nurses is that this program helps them focus on self-care, so that they have the tools to face the sometimes tough job of caring for the sick in our community."
To learn more about Lovelace Health System and its commitment to providing quality and compassionate care, please visit lovelace.com. To learn more about the ANCC PTAP Accreditation and what it means for an organization, visit nursingworld.org. For nurses looking to apply to the program click here.
###

Contact:
Whitney Marquez, Lovelace Health System
Phone: 505.727.5503

Lovelace Health System
Lovelace Health System (Lovelace) recently celebrated its 100th anniversary, marking a century of caring, change and progress while continuously improving the practice of medicine.
Lovelace is comprised of Lovelace Medical Group/New Mexico Heart Institute, Lovelace Women's Hospital, Lovelace Medical Center, Heart Hospital of New Mexico at Lovelace Medical Center, Lovelace Westside Hospital, Lovelace Regional Hospital and Lovelace UNM Rehabilitation Hospital. Across its six hospitals, 33 health care clinics and seven outpatient therapy clinics, Lovelace has 619 inpatient beds and employs a team of more than 3,450, including over 280 health care providers. Lovelace continues to invest in our community, providing more than $81 million in unfunded care and supporting local nonprofit and community organizations with more than $357,000 in charitable contributions and community support in 2022. From the first and only hospital in New Mexico dedicated to women's health to the state's only hospital devoted exclusively to cardiovascular care, Lovelace is a leader in meeting the healthcare needs of this region. To learn more about our state-of-the-art treatment options, innovative health care providers and award-winning quality initiatives, visit lovelace.com.