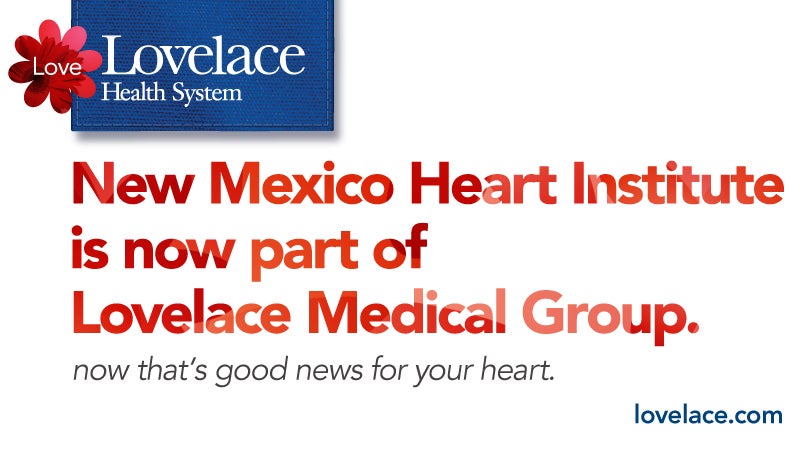 Top Cardiovascular Physician Practice Adds to Lovelace's Quality Reputation

ALBUQUERQUE – Lovelace Health System announced today it has acquired New Mexico Heart Institute (NMHI), the state's largest private cardiology practice.

This transaction solidifies a long-standing relationship between the two entities and further strengthen Lovelace's ability to provide a full range of preventive, diagnostic and interventional cardiovascular care services.

"We are pleased to build upon our partnership with the well-respected and highly trained cardiac team of New Mexico Heart Institute," said Ron Stern, president and CEO of Lovelace Health System. "Together, we have built one of the state's most recognized and well-regarded cardiovascular programs. By fully integrating the Heart Hospital of New Mexico at Lovelace Medical Center and NMHI, we will be able to offer improved continuity of care and a more seamless patient experience. This partnership also provides an opportunity to better serve the rural communities of New Mexico where cardiology services can be scarce."

NMHI currently serves patients in 25 communities across the state. As part of Lovelace, NMHI will retain its name and leadership. Dr. John Cruickshank, CEO Lovelace Medical Group, will lead the NMHI and LHS integration.
"This alliance with Lovelace is powerful," said Sean Mazer, MD, FHRS, FACC. "Integrating NMHI into the Lovelace Health System and specifically the Heart Hospital of New Mexico at Lovelace Medical Center will allow us to create a more cohesive and sophisticated cardiovascular service line model. Together, we look forward to continuing to provide patients with the highest quality diagnostic, interventional, and preventive vascular and cardiovascular care."
About Lovelace
Lovelace Health System consists of Lovelace Medical Group, Lovelace Women's Hospital, Lovelace Medical Center, Lovelace Westside Hospital, Lovelace Regional Hospital in Roswell and Lovelace UNM Rehabilitation Hospital.
About New Mexico Heart Institute Today, the New Mexico Heart Institute is the largest private cardiology practice in the state serving patients in 25 New Mexican communities, with care delivered in Albuquerque, Rio Rancho and Santa Fe. NMHI practices state-of-the-art medicine by employing the latest cardiovascular imaging and fully integrated interventional, cardio-thoracic, and vascular surgical approaches. The Institute's services, a number of which are conducted in conjunction with the Heart Hospital of New Mexico at Lovelace Medical Center, address a full range of preventive, diagnostic, treatment, surgical, and rehabilitation needs.
Contact: Whitney Marquez Lovelace Health System Phone: 505.727.5503
Whitney.marquez@lovelace.com

# # #