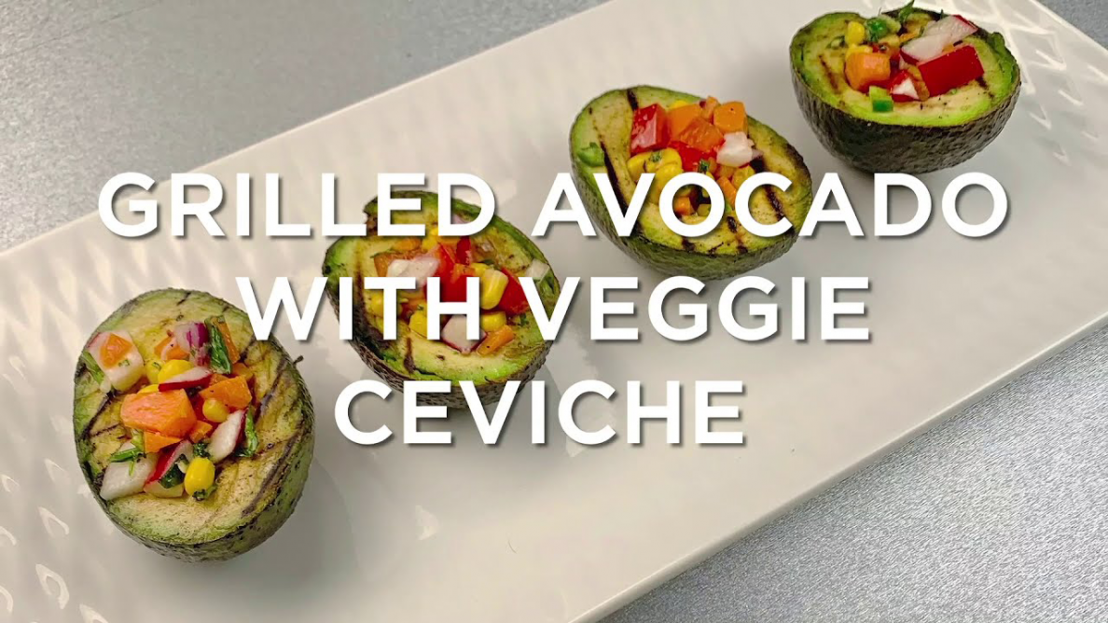 Heart healthy recipe of the week: Grilled Avocado with Veggie Civiche. Avocados contain heart-healthy monounsaturated fatty acids, are loaded with fiber, and may lower your cholesterol and triglyceride levels.
Ingredients:
3 tablespoons organic red wine vinegar
c cup lime juice
¼ cup orange juice
1 teaspoon honey
1 teaspoon grated ginger
½ of a vegetable bouillon cube, minced to a powder
2 tablespoons extra virgin olive oil, plus more for greasing
kosher salt and pepper to taste
1 ear of corn, kernels removed
1 red bell pepper, seeded and diced small
¼ cup minced red onion
2 purple carrots, peeled and sliced into thin coins
1 cup small diced cauliflower
1 serrano pepper sliced thin
¼ cup minced cilantro
4 avocados, halved with pits removed
Directions:
In a medium sized mixing bowl combine the red wine vinegar, juices, honey, ginger, powdered bouillon cube and extra virgin olive oil. Whisk to combine then season with salt and pepper to taste.
To the bowl with the dressing add the corn kernels, bell pepper, red onion, purple carrots, cauliflower, serrano, and cilantro. Toss to combine, season with more salt and pepper if desired then set aside to marinate for at least 15 minutes, up to 1 hour.
Brush the avocado halves and the grill pan generously with extra virgin olive oil. Place the pan over medium-high heat. Once the pan is smoking hot add the avocados cut side down. Grill for 2-3 minutes until the avocado has dark grill marks across the surface.
Transfer the grilled avocados to a serving plate then fill the cavities with vegetable ceviche. Serve immediately.
Serves 8 as a side.