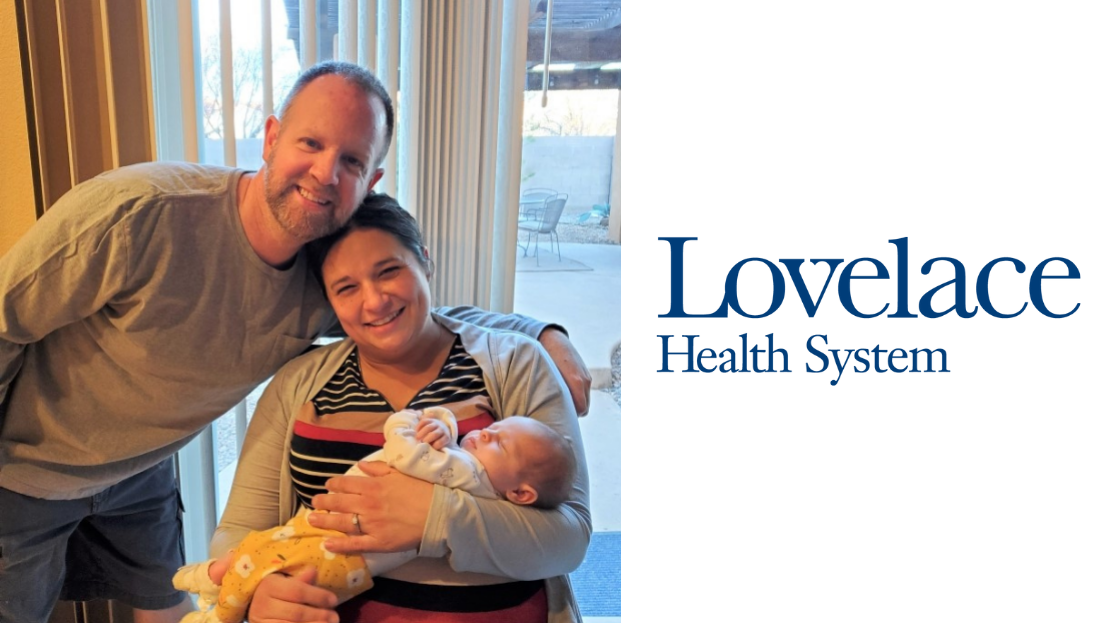 Linda and Ken A. welcomed their first child into the world in January 2021 at Lovelace Women's Hospital.

Leading up to the birth, Linda felt that each circumstance threatened to derail the plan she and her obstetrician, Seddah Moya, M.D., had created. One of the greatest takeaways from her birthing experience, however, was the preparedness of the team at Lovelace Women's Hospital and how they were able to act quickly in the best interest of herself and her baby in every situation.

She and her husband were shocked when her water broke unexpectedly, forcing them to drop everything and rush to the hospital.

"I was anxious because I was not expecting to have my water break, and I thought I would be home for several hours until my contractions got close enough together, but I was rushed to the hospital," Linda said. "At some point during labor, the baby's heartbeat decelerated, and several people ran into my room to check everything. It was incredible how fast they responded. Once they decided it had been too long since my water broke and I could not try to push any longer, they let me know I needed an emergency C-section."

Due to Linda's water breaking unexpectedly, Samara Knight, M.D., MPH, stepped in for Dr. Moya, and the team did everything in their power to ensure Linda was as comfortable as possible.

"We were in the operating room quickly and there were even NICU staff members standing by just in case," Linda said. "We thought that was impressive that they were prepared for anything, because we just didn't know how healthy our daughter was going to be when she was born. Dr. Knight did an excellent job with the surgery, and my cut healed nicely. It was pretty painless, and everyone took such great care of us. They even made sure I was happy with the music in the operating room."

Linda credits the genuine care and these small acts of kindness for creating a sense of calm for her and her husband despite the unexpected situation. And as a first-time parent, Linda was thankful for all the guidance from the nursing staff along the way.

"Even though we did our research, being first-time parents is scary," said Linda. "You really can't be prepared for everything until you start doing it, and they held our hands through it all. They gave us space to figure things out but stepped in when we asked for help."

Although this was their first child, Linda and Ken were no strangers to Lovelace Women's Hospital, as their soon-to-be eight-year-old nephew spent the first months of his life in the neonatal intensive care unit (NICU).

"Our nephew was born [at Lovelace Women's Hospital] and he was about three months premature so, our family is familiar with the hospital and how well they take care of people," said Linda. "We didn't end up having to go to the NICU, but everyone was ready and we're very proud of the NICU. Because of the time our nephew spent there, he's here with us today and healthy."

From the time she arrived until the time she walked out the door, Linda explained she felt well taken care of and in good hands.
"From beginning to end, they're going to make sure that you have the support and the knowledge to take care of yourself and your baby," Linda said. "Even on our way out, they walked us to our car and showed us how to properly set up the car seat. It's the little things like that that are so helpful."

Linda says she doesn't know if she would've had such a great experience at a neighboring hospital and will cherish her experience at Lovelace Women's Hospital for the rest of her life.

"The staff at Lovelace Women's Hospital helped our little family get started," said Linda. "And for that, we're so grateful."

For more information about Lovelace Women's Hospital call 505.727.8000, or visit lovelace.com/services/labor-delivery.