When uterine cancer is present, or when common benign gynecologic conditions cause pain, heavy bleeding and other mild to severe symptoms, women are often treated with hysterectomy - the surgical removal of the uterus.
If your doctor recommends hysterectomy, you may be a candidate for minimally invasive da Vinci Hysterectomy. Using state-of-the-art technology, da Vinci Hysterectomy requires only a few tiny incisions, allowing the patient to get back to normal life more quickly. da Vinci enables surgeons to perform this delicate operation with enhanced vision, precision, dexterity and control.
---
Your doctor may recommend you have a hysterectomy if you have been diagnosed with:
Endometriosis
Heavy menstrual bleeding
Fibroid tumors
Pelvic prolapse
Cancer
da Vinci Hysterectomy offers women many potential benefits over traditional surgery, including:
Less blood loss
Fewer complications
Shorter hospital stay
Minimal scarring
Lower conversion rate to open surgery
Low risk of wound infection
Quicker recovery and return to normal activities
The da Vinci System has been used successfully worldwide in hundreds of thousands of procedures to date.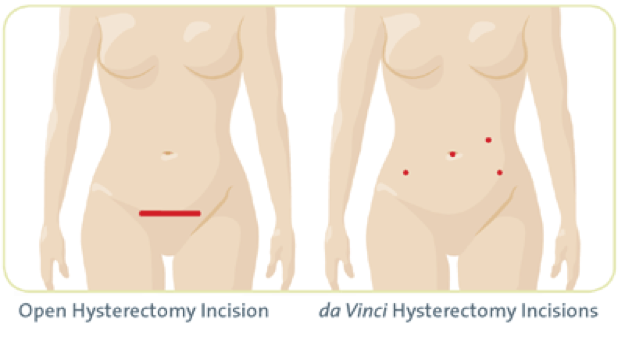 Click here to locate a da Vinci surgeon nearest you.