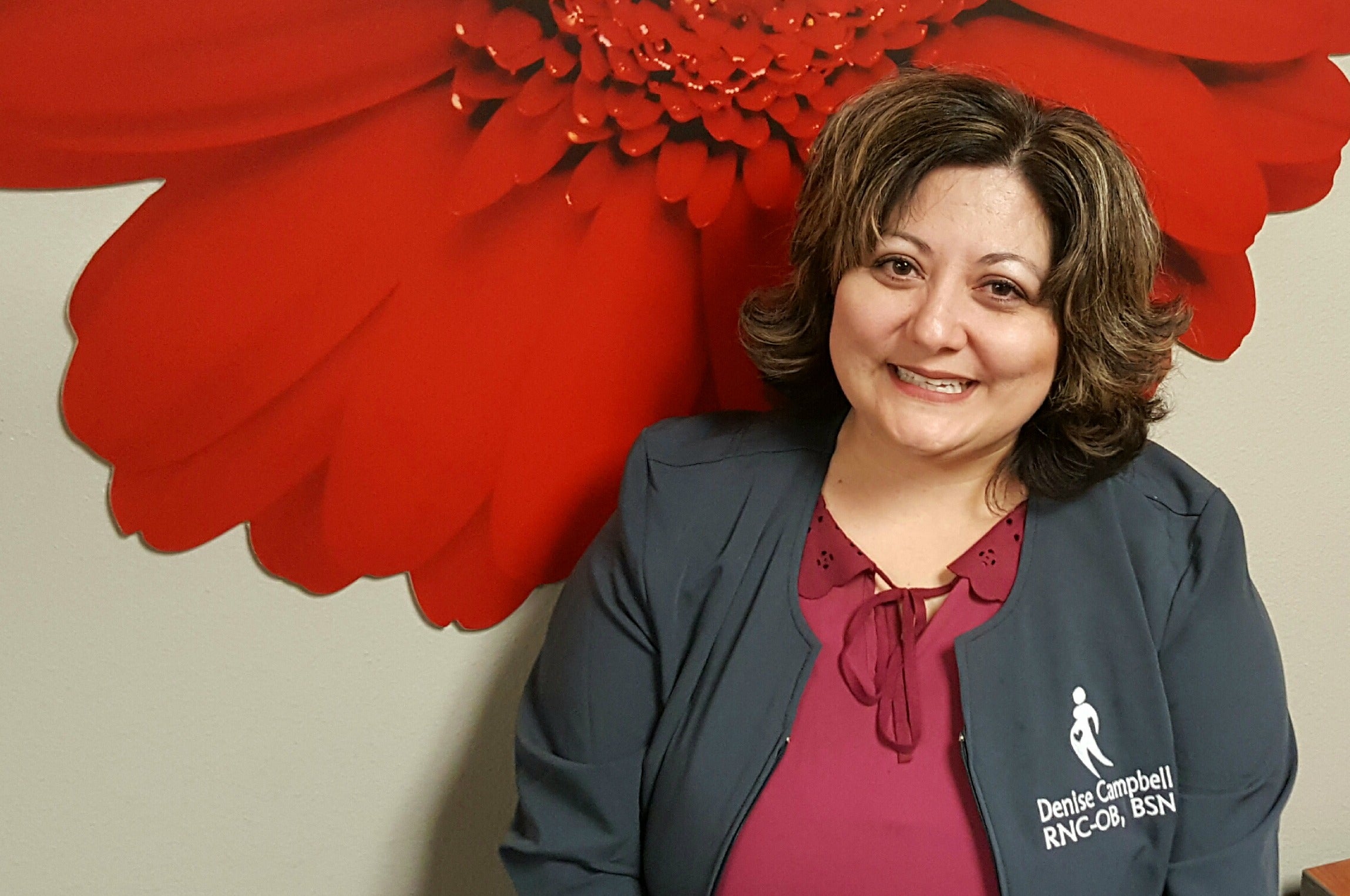 Nursing is very much a part of who Lovelace Westside Hospital Director of Nursing Denise Campbell, RNC-OB, BSN, is today and has been most of her life. She vividly remembers the smell of a hospital, where at the age of 16 she waited for a newborn family member to make it safely out of open heart surgery.
"I knew that I wanted to be that person who was helping," she explains. "Two weeks after I graduated from high school, I went into the nursing program."
Now 24 years into her nursing career, Denise remains passionate about helping. "I want patients to have the best experience possible and I want my staff to be fulfilled and know that they matter," she says. Recognized as the 2016 Lovelace Westside Hospital Leader of the Year, Denise says she is simply trying to be a leader who inspires, listens and helps her staff members achieve their goals.
Leading a staff of 35 in the Family Birthing Center and Pediatric unit, Denise says her leadership style has been intentionally shaped through her involvement with Lovelace leadership training opportunities and the guidance and support of her mentor, Nancye Cole, Lovelace Westside Hospital COO/CNO. "Nancye is so transparent," she adds. "She is the leader I would hope to be. She is an example of the amazing culture here at Westside. I can always contact her if I need anything."
From leadership training, Denise adopted strategies to better connect with and develop her staff. "I've been taking what I have learned so that I can be the leader I want to be - open and approachable for my staff," she shares. "Their ideas are very important, because they are on the front line. I want to know their feedback when we roll out new policies and practices. I hold regular one-on-one meetings with my staff each month. I want to know their strengths and weaknesses. I want to know what we can work on so that we can improve."
Not only has Lovelace Westside Hospital administration taken note of Denise's efforts, but the public as well. The Family Birthing Center had a record number of births in 2016. When you're doing a job well done, news spreads. "Obstetrics is my passion," Denise says. "Being a part of that miracle of birth and being there for that moment when the parents meet their baby is amazing. I know that I set the tone for my staff. I come to work energized. I always try to be positive and to smile. I think smiles are contagious!"
More than positivity alone, Denise and her staff work diligently to put patient care and safety as the top priority above all else. Implementing hospital efforts, such as recognizing the sacred moment with each patient, supports that focus. "We have compassion for our patients," she adds. "They are treated as family. We want to know and understand their needs so that they are part of their care. We do that with the sacred moment, where we stop and ask our patients what their fears and concerns are so that we can make this the best possible experience for them."
Denise sets the expectations high in her departments. She also sets them personally. "After 23 years in nursing with an associate's degree, I attended 14 months of online training with Grand Canyon University," Denise says of graduating with her bachelor's degree in nursing. She received a national certification in obstetrics nursing with a 3.9 GPA, and was consistently on the President's list and a proud member of Sigma Theta Tau International Honor Society of Nursing and Alpha Chi Honor Society. "I'm setting the example for my staff. My goal is to have at least one person receive their RNC until we get to 100 percent of the staff. Today, we are at 65 percent. I want them to know: don't be afraid. Continue your education!"
To learn more about opportunities to work at Lovelace, please click here.