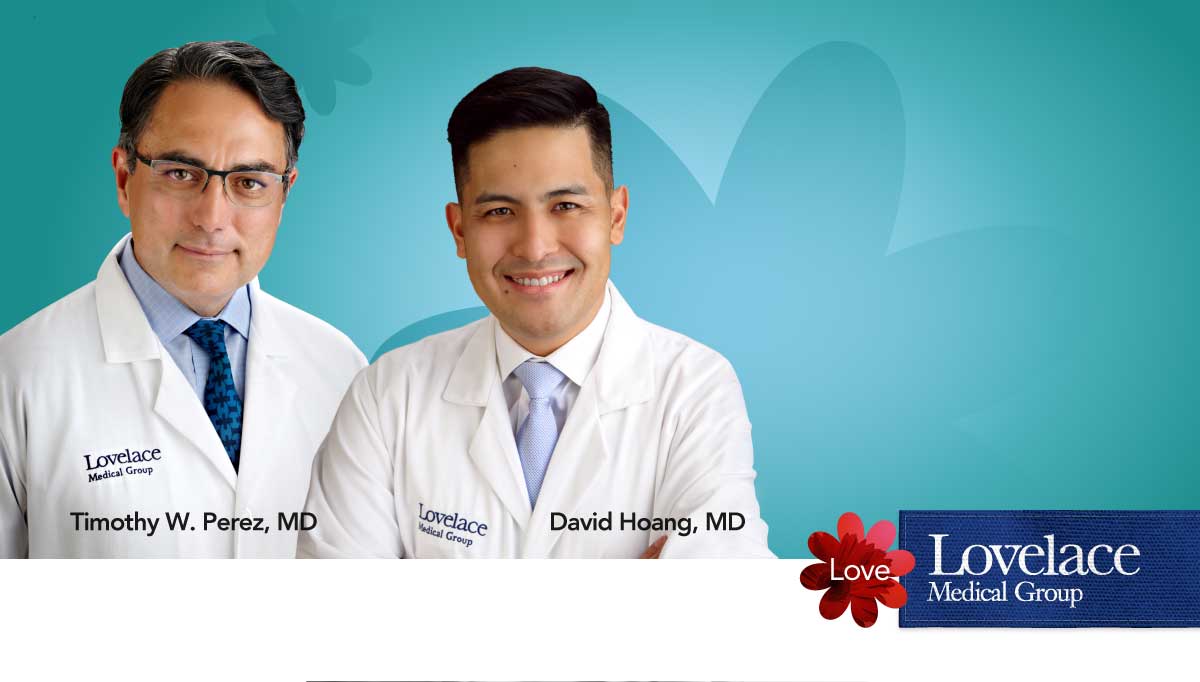 Two new general surgeons have joined Lovelace Medical Group: Dr. Timothy W. Perez, M.D., M.P.H. and Dr. David Hoang, M.D. Both are gifted surgeons who have worked together previously, giving them the experience to develop a partnership and depth of communication that will bring even more quality to their surgery practice for patients in New Mexico. They both also share the common mission of providing excellent care to their patients.
"Our goal is to provide the highest quality surgical care possible and to have excellent care accessible to all New Mexicans," says Dr. Hoang. Both surgeons will focus on general surgeries for complex surgical disorders such as gallbladder surgery, abdominal cancers, diverticulitis and minimally invasive surgeries.
"It is always gratifying to see how quickly my patients recover after a laparoscopic procedure," says Dr. Perez.
Dr. Perez has over 25 years of surgical experience and is board-certified by the American Board of Surgery. He has a statewide reputation for expertise in laparoscopic surgery and is recognized for excellence in the teaching of surgery. He received a bachelor's of science degree from Boston College and earned a medical degree from UMDNJ-New Jersey Medical School. He is a Fellow of the American College of Surgeons and active in the American Society of Colon and Rectal Surgeons as well as the Society of American Gastrointestinal and Endoscopic Surgeons (SAGES).
Dr. Hoang graduated Summa Cum Laude from the University of Houston. He was a research fellow at Texas Children's Hospital and Baylor College of Medicine. He earned his medical degree at The University of Texas Southwestern Medical Center where he had a strong focus on community health. He volunteered extensively to improve healthcare access for the homeless as well as expand injury prevention within low-income communities. In his spare time, Dr. Hoang enjoys being an outdoorsman and is licensed in Advanced Wilderness Life Support, Advanced Trauma Life Support and Advanced Cardiac Life Support. In 2016, he was awarded the Mayor's Public Safety Hero's Award in Albuquerque.
Both surgeons practice on the Lovelace Medical Center campus at St. Joseph Square. To learn more about the minimally invasive surgeries they provide and how you can spend less time in the hospital and recover more quickly, please click here or call 505-727-2727 today!