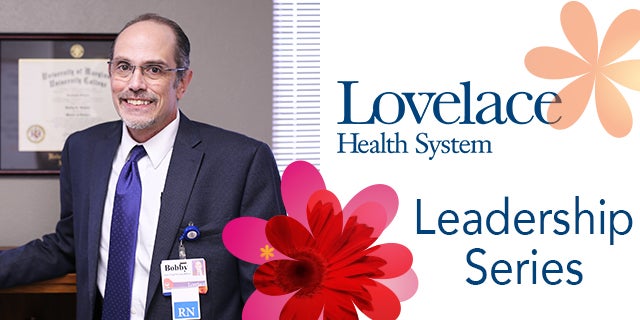 At the heart of nursing is a genuine desire to help people. That desire originally led Lovelace Medical Center Assistant Chief Nursing Officer, Bobby Bluford, RN, into ministry work. "I wanted to reach out to people and help them," he adds. "I wanted to make a difference and have an impact on people's lives." More than twenty years ago, Bobby entered the health care industry, first in finance and then in operations where he ultimately led as the Chief Operations Officer (COO) for a hospital in Houston, Texas. In that role, Bobby had a comprehensive view of nursing in a hospital environment. "The more I got involved and became familiar with the purpose, the more I fell in love with nursing." That prompted one very big and bold move.
"I had reached a point in my life that I said, 'Well, I'm going to do it,'" Bobby shares of a decision that impacted his career and family. At the height of his health care career, Bobby resigned as the COO, moved his family to West Texas and enrolled in nursing school. "I worked full-time at night as a nurse tech. It was the best thing I've ever done and the toughest thing I've ever done."
Becoming a nurse, Bobby admits, had been a desire of his long before taking that step to enroll in nursing school. "Growing up, many of my family members worked in health care, but were non-clinical," he shares. "I grew up with that fever. It was in my heart to improve others' lives the best that I can."
Perhaps in this culmination of desire with action, it prepared him for a role as a nurse leader. "Although we don't think about it like this that often, but nurses are isolated on the floors," he explains. "They have to make sure the patient is safe at all times and act on behalf of their patients as their advocate. It can be a tough job. When I was a nurse tech, I experienced the strain on bedside nurses. It gave me insight and has made me an informed leader today."
When Bobby began his nursing career, he says that being a leader was not his ultimate goal. In fact, he respectfully declined early invitations to move into manager roles. Yet within his second year of nursing, he found himself accepting his first manager position, followed by a director role shortly thereafter. When Lovelace Medical Center Chief Nursing Officer (CNO), Patty Bennett, RN, reached out to Bobby to consider moving to New Mexico, he knew he would not only be working alongside a respected colleague, but a friend as well. "We had worked together in Texas," he says. "She was the CNO and I was the COO. She was the reason I became a nurse. She is the finesse, heart and example of nursing."
One six months into his career at Lovelace Medical Center, Bobby says he continues to lead mindful of what he learned working nights as a nurse tech. "There is mutual respect," he adds. "Its us together – our team."
Bobby meets weekly with nursing staff and directors to review how well the hospital is performing based on patient satisfaction scores with specific emphasis on the top three drivers - nurse communication, responsiveness of staff and pain management. Staying close to the feedback patients provide not only gives Bobby and the nursing staff an opportunity to understand how their delivery of care is being perceived by patients, but also a consistent opportunity to share best practices and provide mentoring. "During the six months since I have been at Lovelace Medical Center, we have improved in all three of those top drivers," Bobby shares.
It is due to this continued focus on the patient experience and patient care at Lovelace, that Bobby says he has found his home in a career that has provided him the opportunity to fulfill his calling to help people. "The spirit of the senior leadership team at Lovelace Medical Center and Lovelace Health System is team oriented," he says. "It is all about taking care of patients. I love it here. Nursing was a calling. Albuquerque was a calling. This is where I'm supposed to be."
Interested in learning more about working at Lovelace? Click here to learn more about our hiring event November 8.