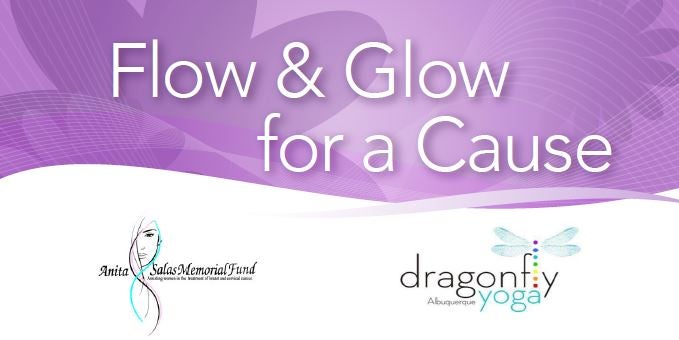 Join Dragonfly Yoga the month of July for several donation-based classes, with proceeds directly supporting Anita Salas Memorial Fund.
The Anita Salas Memorial Fund helps New Mexicans pay for breast or cervical cancer treatment, or related bills, such as transportation, lodging or medications for treatment. The funds support women with moderate to low income and those who are under insured or uninsured. Anita Salas is run by volunteers and all donations stay in New Mexico.
The fund was created in 1998 in honor of Anita Salas, who managed the New Mexico Department for Health's Breast and Cervical Cancer Early Detection Program. Lovelace Women's Hospital and Dragonfly Yoga are honored to support the Anita Salas Memorial Fund in her memory.
For more information, please call 727.6937 or 377.3045. To make a direct donation to the Anita Salas Memorial Fund, please call 841.5896.
SCHEDULE
Restorative Yoga with Michele
Release....Whether you have sore muscles from an intense workout or just need a break from a busy week, come to this class and release the tension. You don't have to be flexible to relax! Rooted in the principles of alignment and restoration, this class offers a gentle stretch as well as peace of mind.
DATE: every Sunday in July

July 1
July 15
July 29
July 8
July 22

TIME: 2 p.m. – 3:30 p.m.
Cool, Calm and Collected
Join Joan and Lori for this special yoga class incorporating gentle, functional movement, self-massage, cooling breath practices and a lengthy guided relaxation. Appropriate for all practitioners.
DATE: Saturday, July 21
TIME: 11 a.m. – 12:30 p.m.
All classes will take place at Dragonfly Yoga located at 1301 Rio Grande Blvd NW #2. Suggested donation for each class is $10 - $15.